Mattel's profits driven higher by Pixar movies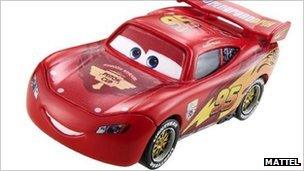 Mattel's profits rose in its third quarter after Disney's Pixar movies helped spur demand for its toys.
The US firm's net income totalled $301m (£191m) for the three months, up 15% on the previous year.
Worldwide sales rose by 9%, with most of that growth coming from the firm's international markets.
"This year's big entertainment property, Cars 2, is... fuelling momentum," said chairman and chief executive Robert A Eckert.
He was referring to a 6% rise in sales of the firm's Hot Wheels range. Mattel released tie-in models and playsets featuring characters from the animated film.
Demand for the company's Barbie dolls saw an even bigger spike, up 17% on the year. Its Barbie and Ken dolls had featured in Pixar's previous film, Toy Story 3.
"Getting licenses from films, particularly cartoons, makes a big difference for manufacturers like Mattel," said Greg Hodge, global retail director at the consumer research agency Iconoculture.
"Having the right product to utilise the licence in the case of Cars was wonderful for Mattel. But picking the right film is the key to success, and choosing can be difficult."
Mattel said it also benefited from a favourable exchange rate. Weakness in the US dollar helped add to its bottom line once foreign earnings had been converted.
However, the gain was partially offset by higher production costs.
Mattel said it will boost its next dividend payment, due in December. For the year as a whole shareholders will receive $0.92 a share, an 11% rise on last year.
The firm's board also revealed it is increasing a previously announced share repurchase programme by a further $500m.
Related Internet Links
The BBC is not responsible for the content of external sites.