Remortgages up by 30% as homeowners borrow to stay put
By Susannah Streeter
Business reporter, BBC News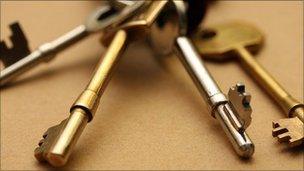 Figures released this week indicate that more people are remortgaging to raise money for home improvements so they do not have to move.
According to the Council of Mortgage Lenders (CML), the number of remortgages in August rose by 30% compared with August 2010.
Some mortgage experts say this trend could be contributing to the slowdown in house prices.
Many other homeowners are remortgaging to simply try to find a cheaper deal.
Sarah Hylton, who lives with her family near Harwich in East Anglia, remortgaged to make improvements so the family could stay in their home longer.
''We cannot afford to move at the moment so we want to do up the house to make it a proper family home," she says.
"We have already completed a lot of work. The next step is a new conservatory and landscaping the garden.''
Housing expert Henry Pryor explains that a lack of confidence in the housing market and the high cost of moving could be behind this trend.
''Many people are remortgaging, drawing down on property to dig out a basement or convert a loft, to provide a home that actually they are looking for," he says
"That is providing a brake on housing transactions and making the resulting prices start to drift ever downwards.''
The latest figures from government's own housing survey show that UK house prices in August were 1.3% lower compared with the same time last year.
The Royal Institution of Chartered Surveyors said that fewer homeowners were putting their properties up for sale owing to fragile consumer confidence.
But those who can increase mortgage payments - even on a very low rate of interest - for home improvements may be the lucky few.
It appears many other people remortgaging are simply trying to find a cheaper deal. But there is a warning that it may not always be the best deal in the medium to long term.
''The cheapest rates are often the ones with the high fees. If you are borrowing a large amount, paying a high fee to get a cheaper rate will make sense but if your mortgage is quite small it will not make sense," says Ray Boulger, from mortgage broker John Charcol.
"As to whether its best to go for a fixed rate or a variable rate, the differential between a fixed rate and a lifetime tracker is now down to around a half of 1% and that is a pretty small premium to pay for having five years of your income fixed.''
For more than an estimated 800,000 homeowners, trapped in negative equity, getting hold of those deals may be almost impossible.
Many advisers say they should try to make overpayments to reduce their loan.
But with the housing market so fragile, many homeowners who could afford to move are opting to stay put and are spending their money on decorating rather than stamp duty.
Related Internet Links
The BBC is not responsible for the content of external sites.