BSkyB profits boosted by broadband sales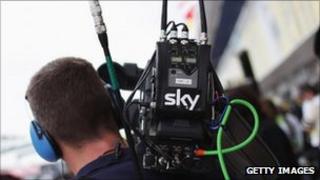 BSkyB has reported an increase in first-quarter profits with more customers taking broadband.
The satellite broadcaster, which also offers telephony and internet, reported a 32% rise in operating profits to £327m for the three months to 30 September.
An increase of 150,000 broadband users made up for an expected slowdown in new subscribers.
Average revenue per user rose £25 from a year ago to £535 a year.
The number of customers taking all three of TV, broadband and telephony rose by 29% to 2.9 million.
"In tough market conditions, our move to more broadly based growth and multiple products is serving us well," said chief executive Jeremy Darroch.
BSkyB has been concentrating on encouraging its customers to take up all three of its services, as the tough economic environment is making it harder to attract new subscribers.
It signed up 26,000 new customers to its pay-TV service in the quarter, compared with 96,000 in the same period last year.
Vote
BSkyB was set to be bought by its largest shareholder Rupert Murdoch's News Corporation until the phone hacking scandal began in July.
Instead of paying $12bn (£7.5bn) for BSkyB, News Corp decided to return £1bn to shareholders.
News Corporation is holding its annual general meeting last this week and is expected to face some shareholder dissent about the way the company is run.
Rupert Murdoch is both chairman and chief executive of the parent company, with his son James as deputy chief operating officer.
James Murdoch is also chairman of BSkyB.
Some shareholders are planning to vote against the re-election of several directors to the board, including Rupert Murdoch.