Asian markets rise on eurozone debt crisis deal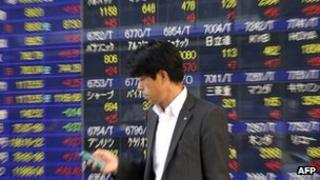 Asian markets rose on Friday following gains in the US and Europe after eurozone leaders agreed a deal to help resolve the debt crisis.
Japan's Nikkei 225 index gained 1.5%, South Korea's Kospi added 1.7%, and Hong Kong's Hang Seng index rose 1.9%.
This was after the Dow Jones index closed 2.86% higher and Germany's Dax jumped 6%.
There have been fears that the debt crisis may hurt growth in Europe and dent demand for Asian exports.
"The market received what it has long been hoping for, and the European agreement will definitely prompt a strong start," said Lawrence Kim, a market analyst at Woori Investment & Securities.
Double joy
The EU leaders meeting in Brussels agreed to expand the eurozone's main bailout fund to 1 trillion euros ($1.4tn; £880bn).
At the same time, some banks also accepted a loss of 50% on their Greek debt. Banks must also raise more capital to protect themselves against losses resulting from any future defaults.
Under the deal, Greek debt would drop from 160% of GDP to 120% by 2020, raising hope that the country will not default on its payments.
Market sentiment was also buoyed by encouraging economic data out of the US.
According to the latest figures from the US Commerce Department, the US economy grew at an annualised rate of 2.5% in the third quarter of this year, boosted by consumer and business spending.
The figure was a significant improvement on 1.3% growth in the second quarter of the year.
The combination of these has helped allay fears of a slowdown in the key US and European markets for Asian exports.
"Fears about Europe had been the biggest concern, and now that news of the agreement has reassured investors, buyers might return", said Kenichi Hirano of Tachibana Securities
Millan Mulraine of TD Securities added "the [US] economy is now heading in the right direction and this is very encouraging, particularly given the heightened global uncertainties".