Infiniti tees itself up as BMW rival in Europe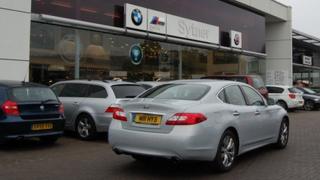 At first sight, the car outside the Sytner BMW car dealership in High Wycombe is difficult to distinguish from the models on display.
But take a closer look and its rounded body offers a hint that this is something else.
The car in question is made by Nissan's luxury subsidiary Infiniti, which in spite of being largely unknown in the UK and the rest of Europe has decided to challenge the world's largest luxury car company, BMW.
"We benchmark ourselves against BMW," explains Infiniti's UK sales director, Tony Lewis, as he guns for growth.
"By 2016, we want a 10% of share of the global luxury car segment."
Grabbing attention
That could prove very difficult, though as part of the challenge the company's M35h petrol-electric hybrid cuts to the chase.
Out on the open road, the large saloon performs like a supercar; one that recently "sped into the record books as the world's quickest hybrid vehicle", as verified by Guinness World Records, according to AOL's green autoblog.
"It does nought to 60mph in 5.5 seconds," observes Infiniti's Mr Lewis, "whilst at the same time delivering 44 miles to the gallon."
That is clearly an exaggeration; the car will not do both at the same time.
Rather, it is a matter of choosing between careful, fuel efficient driving in eco mode, or pedal to the metal to deliver performance that rivals supercars from the likes of Porsche or Aston Martin.
It is this emphasis on combining rapid acceleration and impressive fuel economy that makes the M35h a worthy rival to models sold by BMW, Mr Lewis insists.
"So there is little wonder," he reasons, "that the hybrid is already attracting the attention of senior managers and those in the boardroom."
New products and new engines
Interest there may be, but as yet it has done little to bolster sales.
Last year, no more than 300 Infiniti models were sold in the UK, whilst across Europe as a whole the total was just 6,500 cars.
This could soon change, however, at least if Mr Lewis's ambitions are realised.
By 2016, Infiniti will be selling a whopping 20,000 cars per year in the UK, with the European sales figure rising to 100,000, he insists confidently, pointing to how the marque is already gaining recognition thanks to its sponsorship of Red Bull Formula 1.
However, the sort of massive sales growth envisaged by Infiniti could only be achieved if it was based on something tangible, so the question is: What will the company do to woo picky executive customers in such numbers?
"We've got new products to support us," says Mr Lewis, pointing to plans to launch smaller, and thus cheaper, models going forward.
"In addition, we've got new engines to drive our existing products, so our average fuel consumption and CO2 emission levels are going down."
Company car buyers
Both would be vital ingredients of any recipe for success in Europe - not least because Infiniti's initial cars with powerful and thirsty V6 and V8 petrol engines did little to attract executive car buyers when they were launched in Europe two years ago.
Since then, however, Infiniti has introduced a 3l diesel as well as the M35 petrol-electric hybrid.
Consequently, company car buyers, or fleet buyers, now make up four in 10 of its customers.
That should rise to 50% by 2016, fuelled by the introduction in three years' time of Infiniti models with four-cylinder Mercedes engines, as agreed by the heads of the two marque's parent companies, Daimler and Nissan, at the Frankfurt motor show in September.
New dealerships
But Infiniti's main secret weapon should be its dedicated dealer network, which is currently being rolled out across Europe at the rate of one every three weeks between now and 2016.
By then, Infiniti should have 230 dealerships in Europe, each marketing eight different models, some of them supplied with a variety of engine options.
The right products and enough dealerships are obviously vital if Infiniti is to make money from car sales in Europe, but it may not be enough in a market that many carmakers deem desperately shaky.
"We opened our first dealership two weeks after Lehman," observes Mr Lewis, reflecting on how the subsequent crisis in the car industry made life tough for Infiniti.
The question now is whether the unfolding economic crisis in Europe will yet again interrupt the carmaker's bold expansion plan.