Toyota and Honda report weaker than expected US sales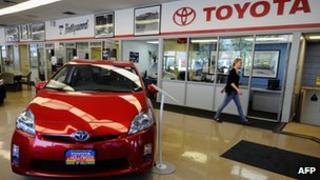 Japanese carmakers Toyota and Honda continue to struggle in the US as they report weaker-than-expected sales for October.
Toyota's sales dropped 8% due to a shortage in supply of its Corolla cars, while Honda's numbers fell 0.5% from a year earlier.
Sales of the two firms have dipped in the US after the quake and tsunami hurt their production earlier this year.
However, Nissan reported an 18% jump in sales during the period.
"I know I predicted at the start of this month that October sales would exceed year-ago levels. That was an aggressive goal," said Bob Carter, head of Toyota brand sales for the US.
Growth concerns
Overall car sales in the US increased by 7.5% during the month, with Volkswagen and Chrysler reporting the biggest gains with 40% and 27% respectively.
But despite those numbers there are concerns about the long term prospects of the sector, not least due to fears of a slowdown in the US economy and the debt crisis in Europe.
"We don't have a strong recovery to begin with and the last thing it needs is a couple of body blows," said Paul Ballew of Insurer Nationwide.
"Every time this industry starts to feel better about itself, you kind of look at the world around and gulp," he added.
However, Al Castignetti, Nissan's US sales chief, said that despite concerns of a global economic slowdown, car sales in the US may hit their highest level in the last three months of the year.
"We've been dealing with this all year," he said. "People have been conditioned to deal with the headlines."