Kashmir seeks growth boost amid signs of peace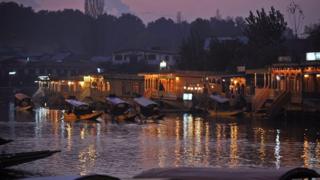 Mushtaq Parray is preparing to leave for Srinagar airport to pick up a tourist who has booked his taxi well in advance.
He will be taking his client on a guided tour of the city and surrounding areas over the next few days, something which may not have been possible just a year ago.
Once a must-visit destination, Indian-administered Kashmir has fallen off the tourism radar after years of conflict between anti-Indian militants and the security forces.
However, things are starting to change and Mr Parray, who owns three taxis, hasn't taken a break for several months.
"This summer has been excellent and I have earned enough to pay back my loan as well as save some money for the future," he says.
More than one million tourists, half of them pilgrims, had visited the conflict-torn valley this year by the end of September.
A hotel owner tells the BBC that things haven't looked this good in a long time.
"We have not received so many tourists in September ever before as we have received this year. It has never happened," he says.
Reconstruction boost
As the tourists return to the region, the authorities are doing their bit to ensure that their stay is as comfortable as possible.
Twenty years of conflict have caused severe damage to infrastructure, and there is a push by the government to rebuild it in order to support the increased demand.
Jammu and Kashmir's economy is expanding at an annual pace of 5%, far less that the national average of 8% growth, and authorities are well aware that until basic infrastructure is put in place it will be hard for them to attract any meaningful investment.
Their efforts have already started to bear fruit, with cement demand growing at an annual rate of 18%.
Wasim Taramboo, an industrialist who recently set up the biggest cement factory in the state, says: "We may be behind other states, but in relative terms the growth rate is higher.
"It will definitely sustain and will rise to a much higher level."
The current financial year has been a peaceful one and according to one projection, economic growth this year may reach 20%.
'Tremendous scope'
While years of conflict and destruction have dented economic growth and stifled the tourism sector, some sectors have managed to sustain themselves, albeit at a bare minimum level.
Horticulture and handicrafts are amongst the prime movers of the economy.
Together the sectors generate almost $1bn (£629m) annually but are in need of a drastic overhaul and value addition in order to fulfil their potential.
More than 70% of the population is engaged in agriculture but they are not producing enough even to cater to the local demand, with almost two-thirds of food products being brought in from other states.
However, young entrepreneurs have spotted an opportunity here.
London educated Farooq Amin is engaged in the food-processing business and he says that despite the odds, the sector is growing at the rate of 50-60% annually.
"In Jammu and Kashmir we have tremendous scope, we have resources, weather conditions and the required skill,'' he says.
Indian-administered Kashmir produces 60% of apples in India, and the hope is that with peace returning to the state and the development of the infrastructure, it will be able to tap further into the vast potential of the sector.
Youth unemployment
Realising these opportunities is key for not just the economic growth of the state but its overall development.
With almost 71% of its population less than 35 years old, Kashmir is facing a big problem of youth unemployment. Last year there were 600,000 people registered as unemployed with the government. Most of them were educated and skilled.
According to international development agency Mercy Corps, 60% of people in the 18-35 age group are unemployed in the Kashmir valley.
Usman Ahmad, director of the agency, says this is a big concern for the authorities.
"With that many young people coming out into the market looking for jobs, and with an economy that has been effected by conflict and instability, and with very small private sector here, you don't have many job opportunities," he says.
Mr Usman adds that it is important that these opportunities are grabbed in order to address the issue.
"When these things are dealt with, there will be plenty of space for the economy to assert itself," he says.
At the same time, the government is trying to turn the large youth population into an advantage for the state.
Dr Mohammad Ismael Parray of Entrepreneurship Development Institute tells the BBC they are training young educated people to venture out on their own.
"We are trying to change the mindset of the young generation. We are telling them there is no scope in the government sector."
'Fragile state'
While there are positive signs and the current year has been a peaceful one, local business owners say that the political situation needs to improve for the economy to see any substantial growth.
"You can't say anything about next year, next day. It is a fragile situation," says Siraj Ahmed, president of the Kashmir Hotel and Restaurant Association.
"It has been a peaceful summer here but it is only calm, it is not normalcy," he adds.
Years of uncertainty and fear have not only eroded the economy but also the confidence of people in it.
However, for the first time in many years, there seems to be a glimmer of hope of a better and more prosperous future.
As an unprecedented peace prevails there is talk of withdrawing some of the emergency laws as the situation improves, and the economy is taking centre stage.
Between hope and despair hangs the future of a place where nothing has been constant except for uncertainty.