National Savings to end Post Office accounts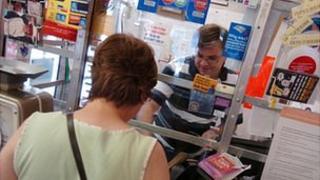 National Savings and Investments (NS&I) is to stop operating its accounts via the Post Office.
No more Investment or Easy Access Savings accounts will be opened from 28 November, though Premium Bonds will still be available.
In future all its savings accounts will be available only via the post, phone or online.
The change will immediately affect 2.3 million people with Investment Accounts and 260,000 with Easy Access Accounts.
Investment Accounts will go through a transitional period after 28 November until May 2012.
During this period, no new accounts can be opened, but those with existing Investment Accounts will still be able to operate them at Post Offices and by post.
However, in May 2012 the accounts will become postal only for existing customers. At that point, new accounts can also be opened, but only by post.
A new higher rate of interest will be announced then as well.
However, the Easy Access Savings Account will be closed entirely in July 2012.
Until then its existing customers will still be able to operate their accounts either at a Post Office or by phone, as at present.
But in July they will be offered the choice of moving their money the new postal Investment Account, the existing Direct Saver Account, or simply moving their money elsewhere.
Direct dealing
Premium Bonds now account for about 75% of all NS&I sales in Post Offices, which is why they will remain on sale there.
NS&I said the changes were part of a wider plan to "simplify and modernise" its range, saving 10% of its running costs.
Jane Platt, chief executive of NS&I, said it was part of its long-running ambition to persuade all its customers to deal with it directly.
"We're very proud of the service we deliver to savers by post, online and, in particular, via our UK call centres [which] are available seven days a week, 365 days a year," she said.
NS&I explained that many existing customers had not put money in or taken money out of their accounts in the past twelve months.
Only 16% of Investment Account customers had done so in the past year, though there had been more activity on the Easy Access Savings Account with about 55% of account holders making a transaction.
But of those who had paid in money or made a withdrawal, for either type of account, only 55% had done so via the Post Office.