How the global financial crisis has hit Uganda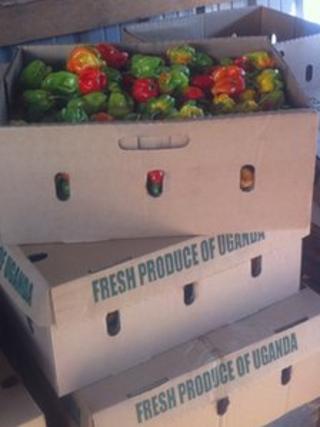 In a small open-air shed in a middle-class district of Uganda's capital Kampala, there are boxes and boxes of vegetables.
The red, green and yellow peppers are destined for the supermarket shelves of Europe.
"Fresh Produce of Uganda" is stamped proudly in large green letters on every side of each box.
But far fewer Ugandan vegetables are being exported to Europe than was the case just a few months ago.
The firm's director, John Kavuma, says the eurozone's debt crisis is to blame.
"The market was going up, and very fast, until recently. Then came the problem with the debt crisis in Europe and things really started affecting everybody," he laments.
Widespread woe
His customers in France, Holland and the UK have cut down on the amount they are buying, as governments there cut spending and consumers tighten their belts.
"These last two months, we have just been breaking even. We were thinking at one stage that maybe we should stop for a while," Mr Kavuma says, and to cut costs he has had to get rid of more than half of his workforce.
Reduced global demand for Ugandan vegetables hits the country's farmers too.
As well as vegetables, Uganda sells fruit, flowers, coffee, tea and fish to richer countries.
Currency concerns
There has been another impact - one that has affected the whole economy.
The Ugandan currency, the shilling, has suffered a dramatic fall in value this year.
At one point it was down by more than 20% against the US dollar as global investors pulled their money out of any asset they deemed risky.
The shilling has recovered from some of that fall, but not enough to reverse all of its impact.
It means imports, such as fuel, have become more expensive - and that pushes up the cost of transporting items such as meat, which in turn has exacerbated already-rising food prices in Uganda.
At the end of October, inflation stood at 30%.
Tough ride
Motorcycle taxis - known as boda bodas - weave in and out of the cars on Kampala's clogged roads.
These are the quickest way to get around the capital.
Leaning on his bike, in a street near Kampala's parliament building, one boda boda rider, Seth, says life is tough now.
"Fuel was 2,500 shillings before. Now it is almost 4,000. It has almost doubled."
The income of the boda boda drivers is being squeezed several ways.
Seth says he's been unable to increase his fares, and so the amount he earns has been massively reduced.
"You cannot charge passengers double. Their incomes have not doubled. He will not take you and you will get nothing," he explains.
As a result of his falling income, Seth says he can no longer afford to eat meat and fish.
"I eat only beans. Why do I have to eat only beans when I am in my homeland?" he asks.
Bank intervention
Uganda's authorities are trying to take measures they hope will mitigate the effects of the global financial crisis.
The new Finance Minister, Maria Chiwanuka, says: "It's very uncertain out there. We can't control what happens in Europe or China or Japan or even in Kenya. What we can control is what do we do to respond here within the country."
The central bank has intervened in the currency market and increased interest rates, hiking them to 23% at the beginning of November.
That has led to a partial reversal of the falls in the dollar-shilling exchange rate. The bank hopes it will reduce inflation as well.
Growth desired
Ministers say they don't want to starting reducing their links to the global economy, as some people have suggested.
"The preferred response was to say: 'No, let us grow our way out of this,'" says Ms Chiwanuka.
But Ugandans are hurting, so her advice to the leaders of the G20 is: "Get out of the crisis, stabilise and grow, and become good markets for us again."
Seth, the boda boda driver, puts it another way.
"I'm begging the white men, help us so we can stabilise our currency and develop."