Kellogg's outlook suffers after axing 'too many jobs'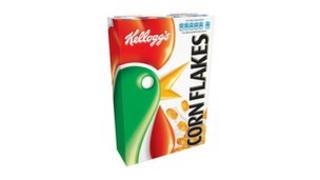 Cereal maker Kellogg's has announced a $70m (£43.6m) investment in its factories after too many job cuts undermined production standards.
The US firm is recruiting 300 US plant workers in a bid to improve quality.
John Bryant, Kellogg's chief executive officer, said the company "cut deeper than it should have" and is now hiring staff.
Kellogg's also unveiled profits of $290 million for the third quarter of 2011, down from $338 million a year earlier.
The move follows a worldwide cull of staff in 2009, which saw an estimated 1,500 employees lose their jobs.
Kellogg's shares fell 7.6% at $49.96 in New York.
'Significant violations'
The firm's products include Pop-Tarts and Nutri-Grain cereal bars, as well as Corn Flakes and Rice Krispies.
In June, U.S. regulators found listeria - a bacterium that causes serious food poisoning - at a Kellogg's biscuit-making plant in Georgia, and warned the company about "significant violations" of manufacturing regulations.
That incident followed a recall of millions of boxes of cereal in 2010 due to an unusual smell, and a recall of some Special K protein bars in 2009.
Analyst David Kolpak of Victory Capital Management said: "I am very surprised and disappointed.
"It's becoming clear that they have underinvested in the infrastructure of the company for some time.
"Now that underinvestment is coming back to bite them."