Lufthansa to sell BMI to British Airways owner IAG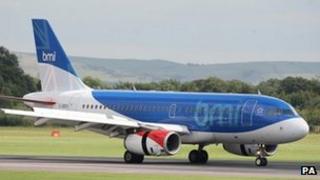 Lufthansa has said it is selling British Midland (BMI) to International Airlines Group (IAG), which owns British Airways and Iberia.
No details have yet been given of how much will be paid for the loss-making carrier.
The airlines said they hoped to sign a purchase agreement "in the coming weeks" and complete the deal before April 2012.
But Virgin Atlantic told the BBC that it could still buy the airline.
The sale still has to be cleared by regulators.
BMI, which is based in Castle Donington in Leicestershire, operates flights to Europe, the Middle East and Africa.
The key issue for regulators will be the extra take-off and landing slots at Heathrow Airport that BMI owns.
The acquisition would mean that IAG would have more than half of the landing slots at the UK's busiest airport.
Bidding war?
But Virgin Atlantic, which has also made a bid for BMI, said the deal was not yet done.
"We have put in a bid so it is by no means a one-horse race," Virgin Atlantic chief executive Steve Ridgway told Radio 5 live.
"It is not a binding agreement and both companies are still talking to Lufthansa."
In a statement, the airline said that "British Airways' hold over Heathrow is already too dominant" and IAG's purchase of BMI would be "disastrous for consumer choice and competition".
Geoff van Klaveren from Deutsche Bank said the deal would make a big difference for IAG.
"It boosts their slots at Heathrow to 54% share from 45%. Given that no new runways are likely to be built in the South East of England in next 10 years, this is a crucial strategic move," he said.
Lufthansa bought the 50% of BMI owned by its then chairman Sir Michael Bishop in 2008, taking its holding to 80%.
It decided to sell it as the carrier's losses widened.
It reported a loss of 154m euros ($213m; £133m) for the first nine months of this year, hit by rising fuel costs and social unrest in some of its destinations in North Africa and the Middle East.
BMI also has a no-frills subsidiary called BMIBaby and the Aberdeen-based BMI Regional.
BMI announced on 28 October that it was in advanced talks to sell BMI Regional to a UK-based investor group that would continue to run it as an independent airline.