Toyota profits hit by floods in Thailand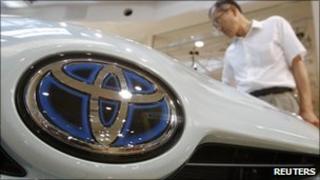 Second quarter profits at Japanese carmaker Toyota have fallen by 18.5% to 80.4bn yen (£642m; $1.03bn) due to supply problems caused by the recent floods in Thailand.
The company has withdrawn its profit and vehicles sales forecasts due to uncertainty over the flood impact.
A Toyota spokeswoman said lost output from the Thai floods from October would be about 150,000 vehicles.
They also said the strong yen was making its exports less competitive.
Disruption to the supply of parts caused by the floods have continued to effect production.
The company said it would halt operations in Thailand and reduce output in the US, Canada, South Africa, Malaysia, Indonesia, the Philippines, Vietnam and Pakistan.
Supply problems caused by the floods will not be over this year, Yuuki Sakurai, chief executive of Fukoku Capital Management in Tokyo told the BBC.
"Floods sustain for quite a long time... recovery start from maybe the next year [2012]," he said.
These cutbacks have come at a time when Toyota was starting to ramp up global production to make up for lost output after the earthquake and Tsunami in Japan in March.
However, Toyota Vice President Satoshi Ozawa said that although sales in Japan and the US had fallen due to these natural disasters, demand from emerging economies had made up some of the shortfall:
"In Asia, despite a negative impact from the earthquake, we increased vehicle sales above the same period last fiscal year due to expanding sales in India, Indonesia and Thailand," he said.