US trade deficit shrinks as exports grow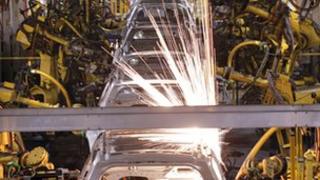 The US trade deficit narrowed for the third consecutive month in September on growing exports and shrinking imports.
The monthly deficit fell to $43.1bn (£27.1bn; 31.7bn euros), according to figures from the Commerce Department.
Exports hit their highest level this year, at $180.4bn, helped by exports of industrial goods and consumer goods. Imports totalled $223.5bn.
The politically sensitive trade deficit with China shrank to $28.1bn from $29bn as imports of Chinese goods fell.
Imports of consumer goods, including toys, clothing and cookware, declined in September, a month when retailers start getting ready for the holiday shopping season.
Slower job and income growth could be harming household spending on non-essential goods, it added, after disappointing unemployment figures were released last week.
Payrolls - the number of new jobs created in the US - rose by 80,000 in October, the slowest rise in four months.