Taxman to make money from Payment Protection Insurance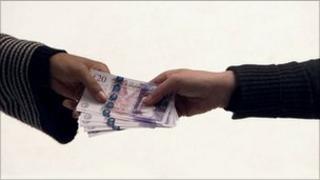 Millions of people are facing an unexpected tax bill on their Payment Protection Insurance (PPI) claims payouts, the BBC has learned.
The banking industry has set aside £6bn to pay for the mis-selling of PPI.
Customers were awarded compensation plus interest of 8% by the Financial Services Authority on the money they originally spent on PPI.
This interest will be subject to tax - earning the government tens of millions of pounds.
A spokesman for HM Revenue & Customs told Radio 4's Money Box programme: "No tax is generally due on the repayment element of compensation paid to those mis-sold PPI.  However, the additional interest is taxable - in line with other compensation claims."
They said that "Nobody should be worse off, as had the customer not purchased PPI, but kept that money in an interest-bearing account, the interest received would have been taxable.
"Customers should check with their PPI provider as to whether tax has been deducted at source."
HSBC, Barclays, Lloyds and the Co-operative Bank have said that they will not be deducting the tax at source. However, RBS/Natwest said it will. Loan companies are required to deduct the tax.
Confused customers
Banks have been writing to their customers explaining that they need to contact HMRC themselves to discuss what tax is due on the interest payments.
This has left some customers confused.
Vivienne Wachenje, from Essex, who has received compensation from the Co-operative Bank said: "In the document that they sent me they said that I would need to be paying £94.88 tax which I don't really understand at all, it's just a bit more gobbledegook."
She objects to having to pay anything: "The customers were wrongly sold PPI in the first place so why should we have to pay anything at all?"
Credit card customers do not automatically receive interest at 8%. They only receive this if the value of the PPI refund would have meant that they were in credit.
Mike Warburton, tax director at Grant Thornton, said the government would be due a significant sum in tax: "The compensation will attract interest at a relatively high rate of 8%. This will be taxable and the government will expect to raise several hundred million pounds from this."
BBC Radio 4's Money Box is broadcast on Saturdays at 12:00 GMT and repeated on Sundays at 21:00 GMT.