Dubai Airshow: Emirates places 'record' Boeing order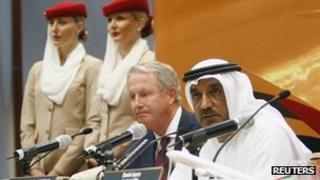 Dubai-based Emirates Airlines has ordered 50 long-range Boeing 777 passenger aircraft in an order worth about $18bn (£11.2bn) at list prices.
The carrier's chairman and chief executive, Sheikh Ahmed bin Saeed al-Maktoum said it was the single largest dollar-value order for Boeing aircraft.
"This order represents a milestone," he said after announcing the contract at the Dubai Airshow.
Emirates has also placed options for more jets, worth another $8bn.
The latest announcement take Emirates' firm orders of the long-range aircraft to 90.
Emirates, one of the world's fastest growing carriers, last year placed an order for 30 Boeing 777 planes worth $9.1bn in a deal announced at the UK's Farnborough Airshow.
Emirates has led efforts by Gulf-based airlines to challenge European and Asian carriers by establishing the region as a major East-West hub.
Sheikh Ahmed said the new order underlines Emirates' strategy to "expand our long haul destinations and continue to excel as a world leading carrier, connecting the world to Dubai and beyond".
The airline is the largest single customer of the Airbus superjumbo aircraft, the A380, with a purchase list of 90 units.
James Albaugh, Boeing president of commercial airplanes, said the 777 order would sustain thousands of US jobs.
Boeing delivered 127 commercial airplanes in the third quarter of 2011, including 100 of its best-selling 737 narrowbodies and 21 widebody 777s.