Sino-Forest panel rebuffs fraud and ponzi allegations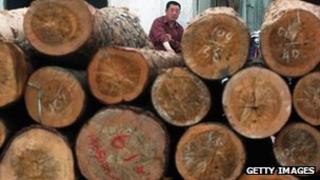 Chinese forestry firm Sino-Forest has said that a committee has found no evidence of it running an investor fraud or ponzi scheme.
The company has been accused by an investigative research firm of inflating its revenues and exaggerating the value of its timber holdings.
Sino-Forest said the committee had verified its timber assets and revenues and found no proof of any wrongdoing.
The allegations had resulted in Sino-Forest's shares plunging by almost 80%.
In August, the Ontario Securities Commission ordered a 15-day trading halt on its Canadian-listed shares, a move that led to the resignation of the then chief executive Allen Chan.
"We can categorically say Sino-Forest is not the 'near total fraud' and 'ponzi scheme' as alleged by (the research firm) Muddy Waters," said Judson Martin, the current chief executive of Sino-Forest.
'No credibility'
Sino-Forest's critics have raised questions about the credibility of the findings of the report, not least due to the involvement of the management in key parts of the investigation.
In its report, the panel said all its meetings with the forestry bureau to verify the company's timber holdings were arranged by the management.
"The independent committee had little visibility into that process," the panel said.
It has also claimed that the "management attended and participated in all the forestry bureau meetings".
Analysts said the manner in which the probe was carried out raises doubts over the validity of its findings.
"One person who [the] management represented as a senior forestry official was found to be an employee of Sino-Forest... but that didn't ring alarm bells," said John Hempton of Bronte Capital.
Muddy Waters, which first made the allegations against Sino-Forest, rejected the company's response, saying the investigation was carried out by people who had vested interests.
"It should be noted that all three directors who oversaw the investigation are defendants in shareholder lawsuits, and one of the three resigned just prior to this release," the company said.
"We believe this release has no credibility."