SABMiller profits rise 21% led by emerging markets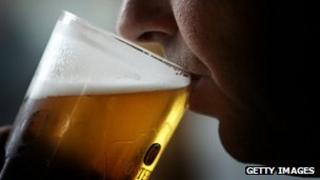 SABMiller's half-year profits have risen 21%, led by higher sales in emerging markets.
The world's second-largest brewer, it made a pre-tax profit of $2bn (£1.2bn) in the six months to 30 September, up from $1.7bn a year earlier.
Its total revenues increased by 10% to $15.7bn. Those in Africa added 22%, while Africa gained 21%, and Latin America rose 14%.
However, revenues were down 1% in North America.
Those in Europe rose 8%.
"Conditions have remained challenging," said chief executive Graham MacKay.
He went on to add that he expected raw material costs to increase faster in the second half of the year.
London-based SABMiller's brands include Grolsch, Miller, Peroni and Pilsner Urquell.
In September, the firm announced an agreement to take over Foster's for 9.9bn Australian dollars ($10.2bn; £6.5bn).