UBS to shed further banking posts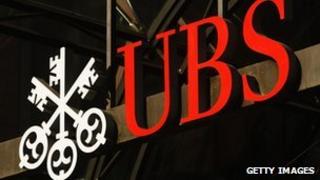 Swiss bank UBS is to reduce its number of investment bankers by another 425, bringing the total to 2,000 losing their jobs over the next five years.
It said investment bank staff would be cut from 18,000 to 16,000 by 2016.
The firm will return to its core business of wealth management, and seek to reduce its risky assets by half, or 145bn Swiss francs ($158bn; £100bn).
In August UBS said it would cut 3,500 jobs, of which 1,575 were investment banking posts.
The bank is looking to save 2bn Swiss francs annually.
"We have chosen to substantially reduce the risk profile of the bank by exiting and downsizing businesses which are not value added to our client franchise or deliver unattractive risk-adjusted returns," newly-appointed chief executive Sergio Ermotti said in a statement.
He had taken charge on an interim basis after Oswald Gruebel quit in September over the bank's $2bn trading scandal, and had his post made permanent on Tuesday.
In September, London-based UBS trader Kweku Adoboli was arrested and charged with fraud and false accounting.
In passing reference, Mr Ermotti said that nothing was more important than the reputation of the bank.
The board also said ex-Bundesbank president Axel Weber will succeed Kaspar Villiger as board chairman from May 2012, a year earlier than planned.
A bank spokesman said investment bank staff would be cut from 18,000 now to 16,500 by the end of 2013 and 16,000 by the end of 2016.
Speaking to analysts in New York, Mr Ermotti affirmed his commitment to the US wealth management business, saying it was "not for sale".
Separately, he told journalists that the days of big margins for investment banks were over.
He predicted the ([investment banking] industry would look more like it did in the 1980s and mid-1990s, and added that the last 10 years had been something of an anomaly.