Brazil prepares for major tourism boost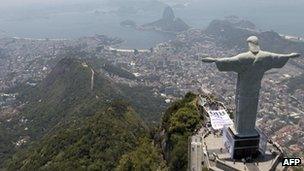 Sipping a very cold beer on Rio de Janeiro's famous Copacabana beach, it is immediately obvious that Brazil has huge potential as a tourist destination.
As the city's young and beautiful strut their stuff under the azure sky, the sea in front of you, and mountains towering behind you, Rio is a picturesque spot.
Add weather seemingly sent direct from heaven by Christ the Redeemer himself, who in statue form towers above the city, and Rio should be packed full of gringos (foreigners).
Instead Brazil in general remains relatively untapped as a holiday destination.
In 2010, the number of overseas visitors to the country totalled 5.2 million, according to the United Nations World Tourism Organisation.
This meant that Brazil did not even feature in the global top 10, and it was dwarfed by world number one France, 76.8 million, and number two, the US, 60 million.
There are numerous reasons why Brazil remains off the main holiday map, but perhaps the biggest two are the fact it is rather a long way from Europe and the US, and a perception of high crime levels.
Flavio Dino, the president of Embratur, the Brazilian Tourist Board, told the BBC Business website that running a successful 2014 World Cup, and 2016 summer Olympics in Rio, will help to more than double the number of people visiting the country by 2020.
Helped by its booming economy, Brazil is ploughing money into its infrastructure ahead of 2014.
It is spending 6.5bn Brazilian real ($3.4bn; £2.3bn) on improving airports at the 12 host World Cup cities, and a further 16bn real on everything from better public transport and roads, to new and renovated hotels, and training for tourism staff.
For Mr Dino this is money very well spent.
"The investments into the country's infrastructure and tourism are a legacy that we cannot begin to measure, as it will establish Brazil as an even greater tourist destination in the years to follow," he says.
And with 600,000 overseas visitors expected to come for the World Cup alone, Mr Dino says he is sure most will wish to go back to Brazil.
"A recent survey of 39,000 international visitors to Brazil showed that 96% intend to return to the country... after they have had a taste of what Brazil has to offer.
"Ultimately, the World Cup and the 2016 Olympics provide a unique opportunity for Brazil to showcase all it has to offer, and we are working very hard to make the most of this opportunity to transform and reinforce the country's image for years to come."
Brazil hopes that showcasing the country in a successful light will mean more awareness of the country as a tourist destination for visitors from the US and Europe, much as happened after the 2010 South Africa World Cup and 2000 Sydney Olympics.
Yet for a country so synonymous with football, beaches and carnivals, the Brazilian Tourist Board also hopes the World Cup and Olympics will highlight the country's other skills and attractions.
Marcelo Pedros, Embratur's director of international markets, says: "Everyone knows that Brazil can play football and throw a party, but we want to show just how well we can organise international events.
"When Germany held the World Cup in 2006 it was the other way around. Everyone knew they would be well organised, but could they hold a party?
"They did, and it was very successful. We are going to prove the same success with Brazil's organisational skills."
With 12 cities across Brazil hosting World Cup matches, the tourist board is also keen to show that there is more to the country than just Rio and the country's beaches.
To do this, it is launching an advertising drive to highlight the country's numerous other attractions, such as the Iguassu Falls in the southern state of Parana, eco-holidays in the Amazon, the historic city of Salvador, and Brasilia, the capital, a planned city with a wealth of unique modern architecture.
Brazil, which this week is holding the Soccerex football business global convention, is also putting particularly focus on attracting more global conferences.
In the past seven years it has risen to ninth place in the International Congress and Convention Association global rankings, from 19th back in 2003.
Regarding crime levels, the Brazilian authorities have this year dramatically increased their efforts to control or "pacify" the slums or favelas scattered across Rio.
Backed by navy marines, and even tanks, armed police have moved in to control the favelas, and for the first time are establishing a permanent presence in the areas, thereby driving out drug gangs.
Although exact statistics are hard to come by, most Brazilian commentators agree that crime levels have fallen sharply.
Mr Dino says it shows that the federal government has been doing "everything possible", and has "achieved positive results".
Mr Pedros adds that the issue of crime in Brazil is very much overplayed by the media in Europe, saying that this gives people an incorrect perception.
Tourism industry analysts agree that Brazil is making great strides ahead of 2014 and 2016.
Independent travel writer Alison Rice says: "For holidaymakers from Europe in particular, Brazil has traditionally been a bit of an unknown place. It was considered very exotic, and very far away, and this put off many people from visiting.
"But world travel is now continuing to shrink, and people are prepared to travel longer distances. There is no reason, for example, that Brazil could not be as popular a long-haul destination as Thailand.
"Particularly if the World Cup and Olympics are successful. It is a wonderful opportunity for Brazil to really promote itself."
Travel industry analyst Mike Bugsgang, of London-based Bugsgang & Associates agrees.
"Media coverage of crime levels in Brazil may have deterred European visitors in the past, but they are likely to have been reassured by the recent work to pacify Rio's favelas," he says.
"European football fans will hardly need convincing that following their national team in Brazil is a must - providing they qualify. Many will doubtless already be saving up for such a once in a lifetime trip."
Related Internet Links
The BBC is not responsible for the content of external sites.