US growth revised down for third quarter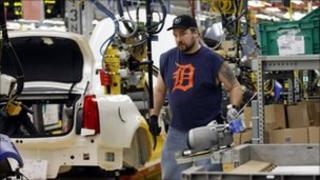 The US economy grew at a slower pace than previously estimated in the three months to the end of September.
Revised figures from the US Commerce Department show gross domestic product grew at an annual pace of 2% in the period, down from the previous estimate of 2.5%.
Despite the downward revision, the quarter's growth was still up from the April-June period's 1.3% figure.
The revision was largely due a prior over-estimate of restocking by firms.
Japan's earthquake seriously disrupted the global supply chain earlier in the year. High energy prices have also weighed heavily on consumer spending.
However, continued restocking and lower fuel prices recently, has led economists to speculate that US fourth-quarter growth could rise to an annualised rate of more than 3%, which would be the fastest in 18 months.
Vimombi Nshom, economist at IFR Economics, said: "Although growth was downsized, it's still the strongest showing of 2011, with GDP's largest component - consumer spending - holding on to its developments from Q2."
Consumer spending growth was revised slightly down to 2.3% from 2.4%, but it was still the quickest pace since the fourth quarter of 2010.
The Commerce Department said that after-tax corporate profits increased at a 3% rate after rising 4.3% in the second quarter.
Export growth was stronger than previously estimated, rising at a 4.3% rate instead of 4%. Imports increased at a much slower 0.5% rate rather than 1.9%.
'Disappointing'
The report showed that real disposable income fell 2.1% in the third quarter after declining 0.5% in the prior three months.
There were also small revisions to business investment, which rose at a 14.8% rate instead of 16.3%.
Despite the latest GDP data being broadly welcomed by many analysts, Michael Mullaney, fund manager at Fiduciary Trust, said: "This is somewhat disappointing.
"The positives are that personal consumption is still OK, but I'm concerned because that seems to be coming at the expense of personal savings.
"We're in the camp that there's at least a 50% chance of a double dip so it doesn't surprise us that the number is softer."