Japan's youth turn to rural areas seeking a slower life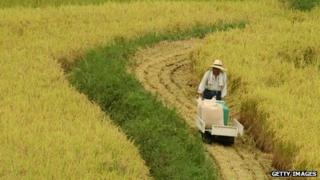 The bright lights of the big city have been a draw for decades, pulling people into Tokyo from the countryside.
But for some young Japanese, the city with its skyscrapers and neon lights is losing its appeal.
Like millions of others from her generation Megumi Sakaguchi cannot find a permanent job, just contracts.
Temporary workers now make up a third of the workforce - up from fewer than a fifth in the mid-1980s - and a greater proportion of them are young.
The certainty of the job-for-life tradition enjoyed by earlier generations has passed her by.
"I never know if I'm going to lose my job," she says. "Financially my anxiety levels are very high.
"In the morning during the rush hour when I'm getting off the train, the way people behave, they are almost inhuman," she adds.
So she has decided it is time for a change.
One weekend in October Megumi Sakaguchi joined a bus tour through the Japanese countryside.
Like her fellow passengers, who were also from the cities, she was getting a taste of what life would be like as a farmer - trying out working the land for a day.
Excursions like this around apple orchards and greenhouses full of strawberry plants, talking to farmers in their fields, take place pretty much every week somewhere in rural Japan.
They are organised and paid for by local authorities which are desperate to repopulate the countryside.
After years of young people heading for the cities the average farmer in Japan is now 65.8 years old and that figure is rising steadily.
But now some are considering making the journey back.
"There are more people that want to be farmers now, and the numbers are increasing," says Naoko Maruyama, a local government official who uses a website to attract potential recruits.
"More people from the city want a rural life. Here in Nagano prefecture we want to help them. But at the same time it takes a lot to become a farmer."
'A slower life'
The prefecture and the local branch of Japan Agriculture, a nationwide farmers' co-operative, offer support for those who decide to go ahead after a weekend of visiting farms.
Lessons are available in the practicalities of agriculture, and help finding available land. Mentoring has also been successful.
Giichi Tanaka, 86, found his apprentice several years ago.
Bent almost double from age, he still works in his greenhouses growing cucumbers, as he has done every day since he came back from World War II.
His own son left decades ago to become a policeman so he was worried about who would take over after he had gone.
Then Hitoshi Kajiya gave up his career as a systems engineer in Yokohama to join him on the farm.
"I was really fed up with my life in the city," says the younger man.
"I was too busy working every day. I wanted to change so I had a slower life. I wanted to become a farmer. The work is slower paced and it is really fulfilling."
"I was looking for a member of the younger generation to take over, someone I could teach to farm," says Mr Tanaka. "Even if my son wanted to, he would be too old. Mr Kajiya is very good. He is very enthusiastic."
Changed priorities?
Their farm is a stop on the tour being taken by Megumi Sakaguchi from Tokyo.
And talking to them, among their rows of cucumber plants, helps persuade her she is making the right decision.
"When I was younger I went to Tokyo because I wanted a bright, vibrant life, but I like it better here - full of nature," she says.
"If you live in the city you don't know who lives next door. But in the countryside you greet your neighbours. I've realised I like people," she adds.
"I know I will enjoy my life much more in touch with my community. Here you even talk to strangers. The kids say hi. I think I will enjoy the country life."
Japan remains a supremely urban country and the numbers now returning to the countryside are tiny compared to those who went the other way.
Kanto, the region grouping Tokyo, Kawasaki and Yokohama in one unbroken sprawl, is the most populous conglomeration the world has ever seen with a bigger economy than India.
But in the nation which led Asia in its rush from the countryside to the cities a few young people are rediscovering the value of what was left behind.