Boss of Indian microfinance firm SKS steps down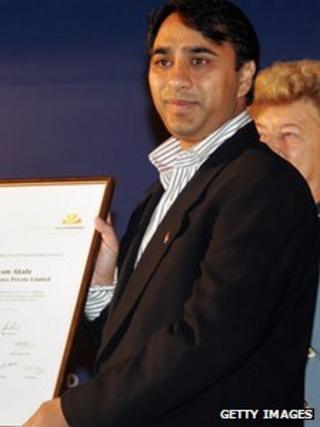 After much speculation, the head of India's largest microlender, SKS Microfinance, has stepped down.
Vikram Akula resigned after the board of India's only listed microfinance company met in Mumbai.
SKS was once one of the sector's top for-profit companies, attracting major investments.
However, microlenders in India have been struggling after their business models and practices caused a backlash.
On Wednesday, several media outlets were reporting that Mr Akula was under pressure from board members to resign.
Shares slump
SKS Microfinance, based in Hyderabad, is one of many large microlenders that sprung up around India, that gives small loans to poor people.
SKS attracted investment from the likes of George Soros and US venture capitalists.
It had a share sale in August 2010 raising $358m (£249m), sending its stock price up to 1,304 rupees.
Shares have since lost 90% of their value in a change of fortunes for the company.
Microlenders were accused of charging high interest rates and having aggressive means of collections, that allegedly sparked a string of suicides in borrowers.
The companies have denied these charges. However the government of Andra Pradesh passed a law to come down on abuses of the system.
SKS and others said this made it difficult to issue new loans and collect on old ones.
SKS reported a net loss of 6bn Indian rupees ($115m; £74m) in the first half of this financial year. That compares with a profit of 1.5bn rupees in the same period a year earlier.
The company did not give a reason for Mr Akula's departure, but named PH Ravi Kumar as the interim non-executive chairman.