S&P cuts Egypt's credit rating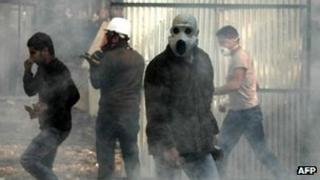 The credit ratings agency Standard & Poor's (S&P) has cut Egypt's sovereign debt rating.
The rating has been cut from BB- to B+, pushing the country's sovereign debt further into junk status.
S&P said the downgrade reflected Egypt's "weak political and economic profile" having deteriorated further.
There have been several days of violent clashes in central Cairo ahead of the scheduled parliamentary elections on 28 November.
The elections will be the first since President Hosni Mubarak was overthrown in February.
S&P also gave Egypt a negative outlook, suggesting it expected the country's creditworthiness could deteriorate further during the transition from military rule.
"We assess the policy choices of Egypt's ruling Supreme Council of the Armed Forces, such as allowing violence to escalate in Tahrir Square from 20 November in an effort to disburse protesters, as having weakened the prospects of a smooth political transition to democracy and having reduced the ability of the government to place the public finances on a more sustainable path," S&P said in a statement.
The agency downgraded Egypt to BB- last month, citing the risks of the political transition.
At least 38 people have been killed and 2,000 injured in clashes in Cairo's Tahrir Square, which was the centre of the movement against President Mubarak earlier in the year.