UK house prices surprisingly resilient, Nationwide says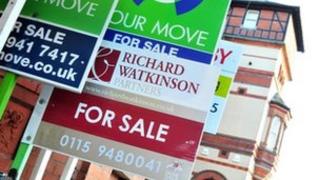 UK house prices have remained "surprisingly resilient" in recent months, with values rising again in November, the Nationwide has said.
It said the average home rose in value by 0.4% in November to £165,798.
This was a 1.6% year-on-year increase, according to the figures based on Nationwide's own mortgage data.
Meanwhile, the number of mortgages approved for house purchase, but not yet completed, has risen slightly to its highest level for nearly two years.
The Bank of England said there were 52,743 approvals in October, up from 51,193 the previous month and the highest monthly total since December 2009.
The fact that approvals last month were higher than the average for the previous six months suggests that sales may pick up slightly in the coming months.
But Howard Archer at IHS Global Insight said: "A pick up in mortgage approvals in October and firmer house prices in November is highly unlikely to herald a significant, sustainable upturn in the housing market's fortunes given largely unfavourable economic fundamentals."
Contrasting figures
The Nationwide's house price figures differ with those from the Land Registry published on Monday which showed that prices in England and Wales had slipped slightly in the past year.
The Nationwide predicted that prices would stay the same or fall in the next 12 months.
"House prices have remained surprisingly resilient in recent months, despite the deterioration in the economic outlook," said Robert Gardner, the Nationwide's chief economist.
"But, with the UK economic recovery expected to remain sluggish well into 2012, house price growth is likely to remain soft, with prices moving sideways or drifting modestly lower over the next twelve months."
Homes on the market
The best measure of current trends in house prices is to compare the average price of the past three months with the average price of the previous three months.
On the Nationwide's data this three-month on three-month comparison shows a rise of 0.2%.
Mr Gardner said the apparent resilience of house prices reflected a lack of supply in the market.
He welcomed the latest announcement from the government on encouraging first-time buyer activity, but said that any action should also include measures to increase housing supply.
The government's housing strategy, announced earlier in the month, included a mortgage guarantee scheme to encourage lenders to offer 95% mortgages to buyers of new homes.
The interactive content on this page requires JavaScript