Adapting is the key to India's success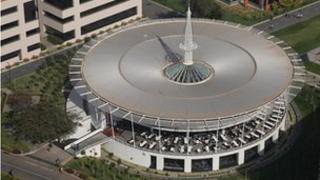 It is 10 years since the Goldman Sachs economist Jim O'Neill first coined the term Bric - Brazil, Russia, India, China - when describing a group of emerging market economies that seemed set on a path of high growth. To mark this anniversary, Nidhi Dutt reports from Bangalore in India for Business Daily.
The success of Banglalore is synonymous with India's technology boom.
Over the past 10 years, major IT companies such as Google have moved in and made it home.
They have spurred growth and development, and helped to create India's very own Silicon Valley.
The road to international success has been long but, looking back at the journey, KV Kamath, chairman of IT conglomerate Infosys, says that daring to dream has paid off.
"I think the boldest step was to believe that you could do this work, the IT services work out of India with very little connectivity," he says.
He says that India had the brainpower, but did not have the infrastructure in place to do this business.
"That was the biggest step these companies took", he says.
From humble beginnings, firms like Infosys have grown and put India on the map, drawing attention to its engineering talent and its ability to innovate.
Tougher criteria
But times are changing and so too is the mood of the global economy, so India's IT sector is now having to think new and think big.
At a local recruitment firm in Bangalore, a job seeker does a routine interview.
Like many others he is trying to ride the city's next tech wave.
So far there has been good reason to believe that opportunities are out there. In just over 10 years, the industry has grown from 1.2% of India's entire economic output to 6.4%.
But with some of its major trading partners facing a slowdown, Sangeeta Lala from recruitment firm Team Lease points out that firms here are changing the way they hire.
"Today what has happened is that the professionals coming out today, be it freshers or experienced, they have to show their skills through more technical validation checks," she says.
"Job seekers have to show longevity and tenure on a project rather than just flow along with the high tide."
Outside challenges
Some companies are moving away from the traditional back-office services that Indian IT companies are best known for.
Tech firm LACS designs and sells tablet computers.
With its new IT policy, the Indian government is keen to promote this kind of business.
But Mahendra D Jain, the managing director of LACS, says that it may be some time before India establishes a substantial production presence.
"Today 90% of the world's electronics are manufactured in China and we have to think of the costings so we can manufacture products at affordable prices - which is going to be a challenge," he says.
"It is not that it is not possible in India. It's a question of government taking appropriate decisions to build proper hardware hubs, manufacturing facilities, support from their side. That would play a very important role in the present day world."
Branching out
Vivek Ravishankar used to work at Amazon, but he left what many would call a stable job to go out on his own.
Together with five others, this 23-year-old now runs Interview Street, an online screening and recruitment company.
Working from a sparsely furnished and rather quiet apartment, Vivek's client list now includes some of the most well known companies in India and from around the world.
"We built this tool to help companies screen programmers effectively, and then we started pitching to customers. Our first customer was Bang Bazaar, a startup. Then we got Amazon and when our Amazon contact quit and joined Facebook, we got Facebook as a customer.
The IT sector has driven Bangalore's success but there is a growing need for companies old and new, big and small, to concentrate on innovation.
The bigger question, however, is how soon will the wealth generated by this sector trickle down to India's impoverished majority?