Asian markets up on central banks' move to help lending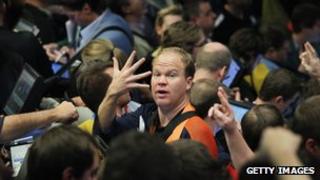 Asian stocks have gained after many of the world's biggest central banks unveiled a plan to stimulate lending.
The US Federal Reserve, the European Central Bank, and the central banks of the UK, Canada, Japan and Switzerland will take coordinated action from 5 December.
In a separate move, China also said it would free up money for its banks to lend.
There have been growing fears that a lack of funds will hurt global growth.
"We are clearly seeing some very big stresses in the global banking system, and they wanted to do a pre-emptive strike," said Boris Schlossberg of GFT, a currency trading company.
"The fact that this was a coordinated move took the market by surprise and lifted all risk trades," he added.
'Cheered'
Analysts said sentiment was lifted by the hope that the plan may limit market volatility and go some way to helping find a solution to the ongoing debt and economic problems in the eurozone.
They added that China's move also helped soothe concerns about the speed with which its economy was slowing.
Japan's Nikkei index closed up 1.9%, while South Korea's Kospi ended the day 3.7% higher. In late afternoon trading, Hong Kong's Hang Seng was up 5.7%.
The euro also strengthened on the news, and was trading at about 1.3448 against the US dollar and at 104.33 versus the Japanese yen.
Earlier on Wednesday, US and European markets had one of their best sessions this year on the news.
Wall Street's Dow Jones index saw its biggest gain since March 2009, rising 4.2%. In Europe, Germany's Dax index closed 5% higher, while France's Cac 40 jumped 4.2% and the UK's FTSE 100 rose 3%.
"The moves were cheered by markets, as it shows central banks are willing to work together to ease Europe's sovereign debt crisis," said Stan Shamu of IG Markets.
"It seems China now thinks that slowing growth is more of a risk than inflation."
Carrot or stick?
In previous months, central banks and policymakers have been criticised for not doing enough to reassure investors in what many observers are calling the most difficult economic climate in decades.
The plan unveiled by the central banks in the US and Europe is aimed at making it easier and cheaper for banks to obtain US dollars.
Based around a transaction called "dollar swaps", the plan cuts the cost of borrowing the US currency by half a percentage point, or 50 basis points.
This should, according to policymakers, trickle down and make it easier for businesses and households to get access to finance, giving a filip to the market and larger economy in general.
As well as cheaper US dollars, the central banks will also provide easier access for lenders to other major currencies as and when they need it. The plan will start from Monday, 5 December
In its attempt to get more liquidity flowing, China said on Wednesday that it will cut the minimum amount of cash the country's banks have to hold in reserve.
China's central bank reduced the reserve ratio requirement for banks to 21% from 21.5%. The new requirement will also come into effect on 5 December.
"You don't have to fix everything, you have to be on a path towards fixing things," said Tobias Levkovich of Citigroup in New York. "Markets will reward you for the efforts you are making as long as you are moving in the right direction.
"It's the carrot and the stick; you get rewarded when you do the right thing, and you get punished when you do the wrong thing."
'Important point'
Despite the gains in markets, many voices still urged greater action.
Bank of Japan Governor Masaaki Shirakawa warned that the coordinated action would only have a limited impact on the bigger economic problems unfolding in Europe and the eurozone.
"The European debt problem can't be solved by liquidity provisions alone," the governor was quoted as saying by the Dow Jones news agency.
His view was echoed by George Goncalves of Nomura Securities International.
"By no means does this address all of the issues facing markets, and we remain worried European Union policymakers might drop the ball," said Mr Goncalves.
"But it removes one roadblock and signals that perhaps more help is on the way."