'Energy saving' scam hits elderly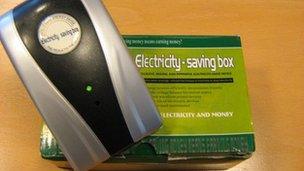 Some elderly householders are being targeted by people offering to sell them bogus "energy saving" devices that are dangerous.
Trading standards officers say they have received more than 200 complaints about phone calls from the scammers.
The callers claim to be energy suppliers, or their partners, and offer a plug-in gadget that supposedly cuts electricity use by 40%.
The officials say they are unsafe and could cause a fire or electrocution.
Ron Gainsford, chief executive of the Trading Standards Institute, said criminals were using high energy prices as a pretext for selling dangerous devices, mainly to elderly householders.
"A safety recall has been issued for the items traced so far," he said.
"[We] have had a number of the items tested which not only failed to satisfy electrical safety standards but do not deliver any tangible energy savings."
The fraudsters appear to make their calls from abroad, offering to sell a device for £99.
When the scammers call they seem already to know the householder's name and address, energy supplier and even their credit card or debit card details.
Names used so far by the callers have been 1 Stop Marketing Solutions, ITC Development Corp, Power Saver and Athico Ltd.
The device itself is a made by MacroPlus of B1208, City Square, Shenzhen, Guangdong in China with a model number of SD 001.
Sue Jones of Westminster trading standards said: "Often consumers do not realise that they have been defrauded until they receive the dodgy looking device with instructions in broken English and the accompanying invoice which names an unknown supplier and often gives an American address."
Related Internet Links
The BBC is not responsible for the content of external sites.