Eurozone growth left unrevised at 0.2%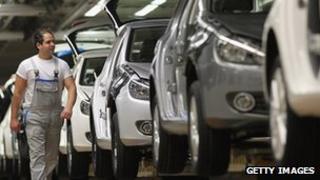 The eurozone economy grew by 0.2% between July and September, figures show, confirming earlier estimates.
The figure of 0.2% was also the same as the eurozone's growth rate in the second quarter of the year.
The latest estimate of GDP also showed quarterly growth of 0.3% in the 27 countries of the European Union.
The economies of both the eurozone and EU showed growth of 1.4% compared with the third quarter of 2010, according to Eurostat.
Separate figures from the German government showed that the country's factories recorded an unexpectedly strong 5.2% rise in industrial orders during October.
This followed a fall of 4.6% in September.
"German factory orders jumped by an extraordinary 5.2% in October, the highest increase since March 2010 and the fifth highest since 1990," said Christian Schulz, an analyst at Berenberg Bank.
Although the rise beat analysts' expectations, Markit chief economist Chris Williamson described the data as "very volatile" and pointed out that the figures for the three months to the end of September compared to the same period last year showed the steepest fall since April 2009.