India stands to gain from 'patent cliff'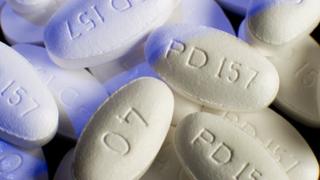 The "patent cliff" has begun. Dreaded by leading pharmaceutical companies of the West for years now, it could potentially make millions of dollars of profits for Indian companies.
It is a phrase used to describe the ongoing expiry of pharmaceutical patents on a range of blockbuster drugs.
Between 2011 and 2012, many drugmakers will lose patent protection on their best selling products opening up the market to cheaper copy-cat drugs made in countries like India and China.
Drugs such as Lipitor, an anti-cholesterol pill manufactured by the world's largest drug maker, Pfizer.
The drug was the biggest money-spinner for the company and has sales in excess of $10bn (£6.4bn) a year.
But it lost its patent protection from November this year and one of the biggest generic drugmakers from India, Ranbaxy, won an approval from US Food and Drug Administration (FDA) to sell a generic version of Lipitor in the US market.
Falling prices
Patents usually protect the companies for 20 years of exclusive sales. After that, it is open to other firms who can make cheaper copies of the original drug.
Once the protection expires, the first company to challenge the patent gets an exclusive right to sell the copy for 180 days.
Analysts say that the cost of a generic drug could be as little as one-fifth of the price. After 180 days, more companies can sell the generic versions and this can result in a further price drop.
Big pharmaceutical companies argue that a lot of money and investment goes into drug discoveries and the rise of generic copies takes away the incentives for companies to develop new drugs.
It is estimated that drugs with combined annual sales of $150bn will go off-patent by 2015.
This includes Eli Lilly's anti psychotic Zyprexa, Johnson & Johnson's Levaquin and Concerta, Pfizer's Viagra and Protonix, Bristol-Myers Squibb's Plavix, AstraZeneca's antipsychotic Seroquel and Merck's big asthma drug Singulair.
India steps up
While it is great news for consumers, it will also be a big financial boost for generic drug makers.
India exports generic medicines worth US$11bn. The bulk of the drugs supplied to places in Africa by aid agencies are sourced from India.
The boom in the generics industry started in 1972 when India decided not to recognize patents on drug products and began churning out low-cost copies of branded medicines.
But in 2005, the country introduced a new Patent Act which prevents companies from copying drugs which are patented, protecting a range of drugs for cancer, HIV-Aids, tuberculosis, and malaria, among others.
However, it gives no protection to drugs invented before 1995 and companies have been able to expand production as a result.
India now has the highest number of US-FDA approved pharmaceutical manufacturing facilities outside of the US.
Many firms are getting ready to benefit from the "patent cliff".
Hyderabad-based Dr Reddy's Laboratories launched Olanzapine Tablets, the generic version of Eli Lilly's Zyprexa in September, 2011. They have a range of over 200 products of branded generic drugs.
Indian company Cipla is one of the biggest producers of low-cost antiretroviral drugs to fight HIV and Aids.
Another Pfizer drug that will now be made by Ranbaxy is Caduet, which generated total annual sales of $339m in the US.
A Ranbaxy spokesperson said the US is a significant market for the company, as it accounted for $600m out of total global sales which amounted to $1.87bn in 2010.
'Evergreening'
But there are now serious challenges to this thriving industry, not least a court case in the country's Supreme Court by Swiss drugmaker Novartis AG.
The company is challenging India's patent laws to protect its cancer treatment drug Gleevec.
While the Patent Act 2005 recognises international patents, it has a provision aimed at preventing "evergreening".
A practice common in the West, this is a method where companies can seeks patent extensions or new patents based on minor changes to existing treatments.
The outcome of the case is expected to affect India's entire generics drug industry.
Another concern are India's trade talks with the European Union, and fears that adopting EU regulations may hamper the country's copy-cat drug market.
However, despite the challenges, companies are expecting strong growth and have been increasingly targeted by multinationals for acquisitions.
PriceWaterhouseCoopers estimates that India will join the league of top 10 global pharmaceuticals markets in terms of sales by 2020 with the total value reaching $50bn.