UK manufacturing output down 0.7% in October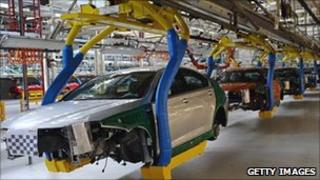 The UK's industrial output fell 0.7% in October, its fastest fall for six months, according to the Office of National Statistics (ONS).
Compared with the same month in 2010, output was 1.7% lower, the biggest annual fall since April.
Manufacturing output also fell 0.7% in October, the biggest monthly drop since April and three times the fall forecast by analysts.
The ONS said the fall reflected broader falls across the manufacturing sector.
It added there was a sharp drop in energy production due to the warmest October weather in five years.
'Grim start'
Electricity and gas output dropped by 4.9% in October, its biggest fall since April.
Analysts said the data indicated a slowdown in the wider economy.
"It's a grim start to the fourth quarter," said Philip Shaw of Investec.
"It tends to bear out our view that the UK is going to double dip and will re-enter recession. The main question is when, and these figures seem to suggest it could be sooner rather than later.
"Overall, we have been of the view that services will keep the economy afloat during the final three months of the year, but given the scale of the fall in industrial production, we are not so sure. "