Mortgage support shift a danger, say lenders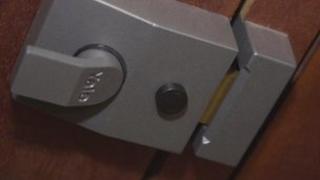 Lenders have raised concerns about potential changes to the way support is given to those struggling to pay their mortgage.
The government is reviewing the Support for Mortgage Interest Scheme, where homeowners who lose their jobs may receive financial help.
It says the programme, which costs £400m a year, is unsustainable.
But a lenders' group has said proposed changes could undermine the scheme's effectiveness.
Future charge
The Support for Mortgage Interest (SMI) scheme, which helps people receiving some benefits, operates across the UK.
Under the SMI, those who lose their jobs receive financial help with mortgage interest payments. This comes 13 weeks after losing their job, a timescale previously cut from 39 weeks. However, the assistance only lasts for up to two years.
Chancellor George Osborne said in this year's Budget that the scheme would operate until at least January 2013.
Now Lord Freud, the minister for welfare reform, has launched a review of the scheme.
"We are committed to supporting homeowners to stay in their own homes when times are hard, but in the future this type of support must be fair and affordable," he said.
These changes could see a charge put on the property of anyone who receives the assistance, which is recovered when the house is sold.
The suggestion was welcomed by the Council of Mortgage Lenders (CML) and the Building Societies Association (BSA).
Concerns
Two other proposals have raised worries from the CML, which represents those who give home loans.
The first is a plan to make the payment to the homeowners themselves, rather than straight from the government to the lender. Lord Freud said the current system did not encourage people to get on top of their own finances.
CML director general Paul Smee said: "The principle of paying the benefit to claimants rather than lenders is dangerous in terms of potentially reducing its effectiveness in meeting its intended purpose".
The CML is also concerned that the qualifying period may return to 39 weeks after somebody has lost their job.
The BSA is calling for the amount received in SMI payments to reflect the actual rate the borrower is paying, rather than a set standard rate.