Industrial output in Italy and Germany diverge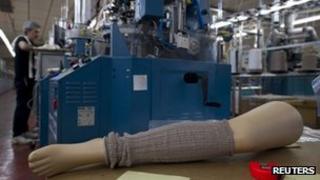 Industrial production in Italy and Germany diverged more than expected in October, figures show.
While factory output in Italy fell 0.9% versus a month earlier, in Germany it rose 0.8%. Analysts had expected more moderate change in both cases.
The German figure marked a moderate rebound from a 3.8% cumulative fall over the previous two months.
But the German economy ministry said that the outlook remained muted for the coming months.
The turnaround was driven by demand for durable consumer goods and capital goods for industry, both of which can be volatile and react strongly to changes in the economy.
The production figures follow data on Tuesday that showed industrial orders in Germany rose 5.2% in October.
Separate figures in the UK showed industrial output fell 0.7% in October, the fastest fall for six months.
Eurozone crisis
The latest output data adds to a widening gap between Germany and Italy over the past year.
German industrial output in October was up 4.1% versus a year ago, whereas in Italy it was down 4.2%.
The Italian economy is widely expected to shrink in the fourth quarter of the year due to the uncertainties and borrowing problems created by the eurozone debt crisis.
"[The October data] is weaker that we expected," said Chiara Corsa, economist at Unicredit, Italy's biggest bank.
"[It] confirms our idea that output and gross domestic product will both fall in [the fourth quarter], even if there is a rebound in output in November as we expect after two steep monthly declines."