An unconventional ECB meeting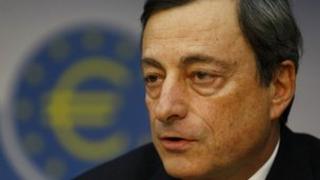 Interest rates used to be the central focus of any central bank meeting. These days they're almost an afterthought. Especially for the European Central Bank (ECB).
For the world's leading central banks, the action is all in "unconventional measures" to support the economy and the banking system: like the UK's latest round of quantitative easing, or "operation twist" by the US Federal Reserve.
But it doesn't get more unconventional than the policy debate about the ECB.
Investors are expecting the ECB to cut interest rates later to help the eurozone economy, which may already have slipped into recession.
A quarter point cut in the main policy rate, to 1% is highly likely - with market prices suggesting a 50/50 chance of a half a percentage point cut.
Many also expect the ECB to do more to ease the funding pressures on Europe's banks, offering longer-term funding for banks that need it, possibly in exchange for somewhat less collateral.
At the very least, the ECB president is expected to promise that these "exceptional" facilities for helping the financial system will not be taken away any time soon.
But none of this will excite the markets - or the commentators.
Bond buying?
The exciting question is whether Mario Draghi will also signal his readiness to ease the pressure on European governments: either by buying a lot more sovereign bonds, so the price of these assets goes up, and the implied cost of borrowing for countries like Italy goes down; or by allowing the ECB to be part of efforts to increase the firepower of the eurozone's emergency rescue fund.
Mario Draghi hinted last week that if leaders could credibly commit to tougher budget rules within the single currency area, "other things might follow".
Many of the leaders on their way to Brussels will want Dr Draghi to say more about that today in his press conference.
But that fiscal compact has not yet been agreed, and it is not yet in a form that the German chancellor considers credible, or acceptable to German voters. Angela Merkel will not want the ECB to deliver more, until governments do the same.