Fake goods save money but at what cost?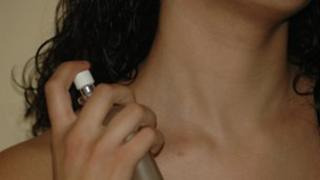 Tempted to buy a bottle of luxury brand perfume or aftershave at a bargain price from a street vendor?
Think again - the smell might be similar to the one being sold in an established outlet, but the liquid providing the base is usually urine.
"They use horse urine," says David McKelvey, from counterfeit and piracy experts TM Eye, who also explains how all fake perfumes, cosmetics and jewellery contain harmful substances.
"There are dangerously high levels of mercury found in fake cosmetics, while the brushes being sold to apply make-up often have lice in them," he says.
High levels of carcinogens such as lead and nickel are also prominent in fake jewellery.
Lost income
At a time when austerity measures are making people more prudent with their spending habits, shoppers are being warned to watch out for cheap items which might be fake.
People try to save money without realising that the purchase of counterfeit goods can actually harm themselves, the economy and ultimately, their own pockets.
"Cheap counterfeits undercut honest traders," says Grant Miller, from the UK Border Agency, who said that at the same time the government receives less revenue from legitimate duties and taxes.
Bargain hunters are tempted by low prices but they could be left with products which promote and fund crime - and which are also potentially harmful and inferior.
If there is a product to be sold and a profit to be made, you can rest assured that someone, somewhere, is making a counterfeit version of that product.
It was common for those illicit products to be sold from street vendors, although increasingly they are now being offered for sale on some internet auction sites.
Some markets such as Camden Lock in the London Borough of Islington have become renowned tourist attractions.
But honest traders with their successful stalls risk having their reputations tarnished when unscrupulous individuals use the market to sell their counterfeit goods.
Islington Council urges people to think twice before purchasing fake items.
"The last thing we want is residents being conned into buying counterfeit goods as presents which then turn out to be poor quality and cause heartache all round," says councillor Barbara Sidnell.
She also points out that the sale of counterfeit goods is a murky business that is often linked to organised crime and exploitation.
Organised gangs are increasingly pursuing several different criminal activities at the same time and using the proceeds from each form of crime to invest in the others.
Most people would think there is little harm in buying a few cheap DVDs, but they do not see the story behind that person standing on a street corner selling wares from a sports bag.
"The fake DVD trade is used to fund people-smuggling into the UK," says John McCrohan, the trading standards manager in the London Borough of Tower Hamlets.
"The consensually smuggled illegals, who mainly came from China, are accommodated in overcrowded flats and set to work selling fake and porn DVDS on the streets of the UK," he says.
"The gangs behind the DVD trade set up DVD burning 'factories' in private homes and flats," he explains.
In those premises, fake and porn DVDs are manufactured and the street sellers collect them.
"When a Bethnal Green (London) flat was raided recently, two DVD sellers arrived having travelled from Coventry," he says.
Global cost
Mr McCrohan points out that in the past when markets in Tower Hamlets became flooded with fly-pitchers selling fake and porn DVDs, the sellers became robbery targets.
"Street criminals realise they have cash and saleable products on them. This causes brawls and disorder and the atmosphere in the markets becomes unsafe," he says.
Dealing with this illegal activity requires police arrest powers and that ties up considerable resources.
The sellers are arrested, interpreters may have to be employed, and most of the people taken to court have no fixed address.
"Thus you have immigration crime, money being laundered out of the country, intellectual property crime and open widespread distribution of hard-core pornography," he says.
Millions of pounds made from selling the DVDs is spirited out of the country.
According to the International Chamber of Commerce, the cost of counterfeiting globally is $600bn (£386bn) a year.
Before anyone buys that bottle of fake perfume to give as a present over the festive season, they really should consider the implications before parting with their money.