Lloyds boss Antonio Horta-Osorio 'ready to work again'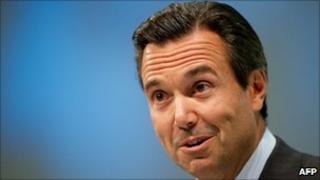 Lloyds Banking Group boss Antonio Horta-Osorio is ready to return to work, but it is understood that in effect, he has to reapply for his job.
The BBC's business editor Robert Peston says a decision is likely to be taken before Christmas.
The bank announced on 2 November that Mr Horta-Osorio was to take extended leave because of a stress-related illness.
Medical specialists and the board are investigating what led to the absence.
Our editor says that in practice, this means the board needs to be convinced that Mr Horto Osorio will become better at delegating, at setting the direction of the bank, but not micro-managing every decision.
The bank's chief financial officer, Tim Tookey, temporarily took over as chief executive in Mr Horta-Osorio's absence.
Our business editor says directors of Lloyds are aware that there is some scepticism among shareholders that Mr Horta-Osorio can run the bank in a way that does not impair his own health.
However, he adds that big investors were generally impressed with his performance before he was forced to bow out.
Lloyds' most important shareholder is UK Financial Investments, which looks after taxpayers' 41% stake in the bank.