European banks need 114.7bn euros, bank authority says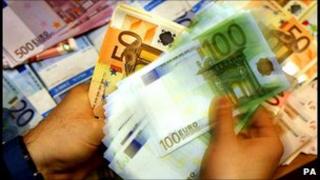 The European Banking Authority (EBA) has said European banks need 114.7bn euros ($154bn, £96.25bn) to be sure of withstanding future financial shocks.
It means banks need to raise 8bn euros more than previously thought - with much of the increase falling on German lenders.
German banks need an 13.1bn euros, up from an estimate of 5.1bn euros in October, it said.
Banks have until 20 January to present plans for increasing their capital.
Previously, the EBA estimated that banks in the European Union would need 106.4bn euros.
The increase in the EBA's assessment since October is down the collapse in the value of many government bonds held by banks.
The October estimate was based on the value of their holdings in June. The new one takes into account the prices from the end of September.
It means six out of Germany's 13 largest banks will need to raise extra capital.