EDF Energy complaints nearly double says Consumer Focus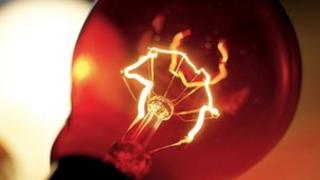 Complaints to EDF Energy have risen by 91% in a year, with most of the major suppliers seeing customer gripes increase, a watchdog has said.
The company apologised for standards of service as it changed its systems.
Consumer Focus said it was not surprising to see complaint levels rise at a time when prices were going up.
Five of the six major suppliers saw complaints rise in the three months to the end of September, compared with the previous quarter.
Billing issues
On average, complaints increased by 26% among the big six suppliers in the third quarter, compared with the previous three months, using a measure of complaints per 100,000 customers.
Only Scottish Power showed a fall in complaints, Consumer Focus said.
EDF recorded a 74% quarter-on-quarter rise in complaints, and a 91% year-on-year increase.
The problems surrounded the implementation of a new billing system, and some customers have been unable to get through on the telephone if they had a problem or query.
"Complaints about EDF Energy over the summer have had a catastrophic impact on its rating," said Adam Scorer at Consumer Focus.
"While system changes inevitably cause disruption to customers, this must be minimised. Its current complaints performance is unacceptable and the company must take further steps to tackle this."
EDF said that the billing system would provide a "new and improved" service when it was fully in place.
"As we finish the transition in the next month or so, we will strive to maintain the improved service while we finish the job," it said in a statement.
The company said it had taken on 400 additional service staff to improve the service to customers.
'Disappointing'
The issues led Consumer Focus to reduce EDF to a zero star rating in the watchdog's own league table.
On average, the big six saw their customer service rating fall from four stars to three.
"It is disappointing, but perhaps not surprising, that complaints on energy issues have risen at a time when energy bills are increasing," said Mr Scorer.
"Energy companies have repeatedly said they want to rebuild consumer trust. Good customer service and complaints handling are key ingredients to building consumer trust, but suppliers still have a long way to go."