India factory output falls 5.1%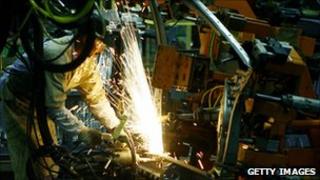 India's industrial output slowed more than expected in October, dropping for the first time in more than two years.
Output from factories and mines tumbled by 5.1% compared with October 2010. A fall of about 0.5% had been expected.
It is another sign of a sharp slowdown in the Indian economy, after almost two years of rising interest rates.
Last week the government cut its annual growth forecast for the current fiscal year to between 7.25% and 7.75%, from as much as 9% previously.
"The IIP numbers are a clear indication of the fact that the slowdown has taken deep roots in the Indian economy," said Jagannadham Thunuguntla from SMC Global Securities in Delhi.
"Against this backdrop, I think expectations of 7% GDP growth this year would be very, very optimistic."
The Reserve Bank of India is holding its latest rate-setting meeting on Friday.
It is expected to keep interest rates on hold and may even hint at a rate cut for next year.
"I expect the central bank to give some indication of rate cuts early next year rather than later this week," Mr Thunuguntla said.
Manufacturing output, which accounts for about 75% of the industrial output figure, declined 6% year-on-year.