LSE in complete control of FTSE indexes on Pearson sale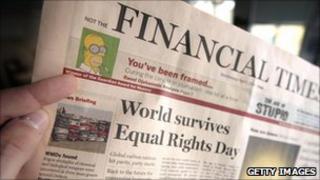 UK publishing group Pearson is to sell its 50% stake in the FTSE International to the London Stock Exchange for £450m ($702.95m).
The sale sees the LSE gain complete control of the FTSE's indexes.
The LSE said the move was "an excellent fit for our growing derivatives operations and will help us develop new tradeable products".
Pearson, which publishes the Financial Times, is looking to focus on news and analysis, and move away from data.
'Proven strategy'
It is the second such sale recently by Pearson, which also owns Penguin Books and a large education unit, following the disposal of its stake in Interactive Data last year.
Chief executive Marjorie Scardino said the FTSE International sale "further strengthens our financial position at a time of significant macro-economic turbulence".
She added: "We are freeing up capital for continued investment in a proven strategy: becoming more digital, more international and more service-oriented in education, business information and consumer publishing."
The deal is expected to be completed by the first quarter of 2012.
The LSE said it would fund the deal from existing resources.
However, it added that it had commitments from banks for £350m in funding, for more "full financial flexibility".