Payday lenders face OFT penalties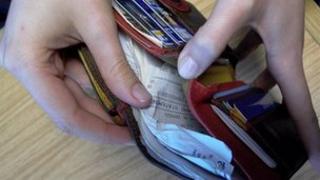 Action is being taken against payday lenders who are flouting guidance on online advertising in the run-up to Christmas.
The Office of Fair Trading (OFT) found some were not checking whether customers could afford to borrow or outlining charges for going into arrears.
A number were unclear about the loan terms and failed to explain the contract.
The OFT has not named the firms.
The businesses could be stripped of their consumer credit licences or simply be forced to change their practices.
The regulator has now started to check advertising on the websites of 50 further firms.
Booming industry
In a report sent today to MPs on the Business, Innovations and Skills Committee, the OFT says that complaints about the lenders to helpline Consumer Direct rose to 1,535 in the first 11 months of this year, up from 700 in the whole of 2010.
Short-term payday loans have boomed. The market is worth about £2bn a year.
However, serious concerns have been raised about the business practices adopted by some players.
Top of the OFT's list of worries is the misuse of continuous payment authority, which allows a lender to take funds from a borrower's bank account even if the account is overdrawn.
Next comes the rolling over of loans which can result in debts escalating out of control.
But irresponsible advertising and selling tactics have also become a major worry.
Credit scores
Andrew Beattie contacted the BBC explaining that he had received a text from a payday lender, saying: "Need extra cash for XMAS? Get cash in your account TODAY. No paperwork or checks."
He believed that many people could be tempted to follow this up, with dire consequences for their finances.
Meanwhile, the OFT has also taken action against a company that offered to show people their credit score.
The regulator said that some people might have thought the service was free, but Adaptive Affinity Limited charged a monthly fee of up to £60.
The company, which was behind QuickCreditScore, HighCreditScore, CreditScoreMatters, High Street Max, Rewards Now and Rewards First, has promised to change its operations to make charges clear.