Hong Kong's Chow Tai Fook raises less than hoped in IPO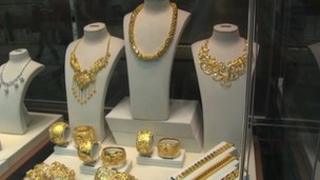 Hong Kong jewellers Chow Tai Fook says it has raised $2bn (£1.3bn) by selling shares to investors.
The amount raised makes it Hong Kong's third biggest initial public offering this year but was less than the maximum of $2.8bn it had hoped to tap.
Volatile global stock markets have hurt investor demand for new share issues.
While its name does not register far outside its home market, Chow Tai Fook is a major brand in China and its share offering had been hotly anticipated.
According to a Hong Kong stock exchange filing, the company priced the shares at HK$15 (£1.24; $1.92) the bottom of a HK$15-21 range.
It said the portion of the shares offered to international investors was "moderately over-subscribed".
Growth plans
The deal values the company at about $19.2bn, more than twice the size of US jeweller Tiffany & Co.
However, the amount raised by Chow Tai Fook lagged behind the $2.5bn Italian fashion house Prada raised in its Hong Kong IPO in June and the $2.06bn raised by Shanghai Pharmaceuticals.
Chow Tai Fook is controlled by Hong Kong tycoon Cheng Yu-tung, the former British territory's fifth-richest man.
The company has 1,500 stores in Hong Kong and China and it plans to increase this to 2,000 outlets by 2016.
The company's shares will begin trading on Thursday.