Ex-Fannie Mae and Freddie Mac bosses charged with fraud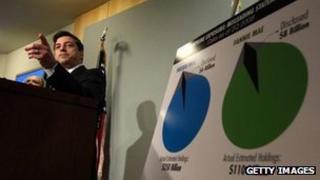 The US financial regulator has brought civil fraud charges against six former top executives at mortgage giants Fannie Mae and Freddie Mac.
The Securities and Exchange Commission (SEC) said the executives had misled investors about the companies' exposure to risky subprime mortgages they held when the housing bubble burst.
Fannie Mae and Freddie Mac were rescued by the US government in 2008.
Those charged include former chiefs Daniel Mudd and Richard Syron.
Mr Mudd was fired from Fannie after the government took over. Mr Syron resigned from Freddie in 2008.
In a statement released through his lawyer, Mr Mudd said the lawsuit "should never have been brought" and said the government had reviewed and approved all of the company's financial disclosures.
"The SEC is wrong, and I look forward to a court where fairness and reason - not politics - is the standard for justice," he said.
Mr Syron's lawyers said the case was "without merit" and said the term subprime "had no uniform definition in the market" at that time.
Fannie and Freddie both entered into agreements with the government on Friday, accepting responsibility for their conduct without admitting or denying the charges.
The companies also agreed to co-operate with the SEC on the cases against the former executives.