Government 'imposes deadline' on unions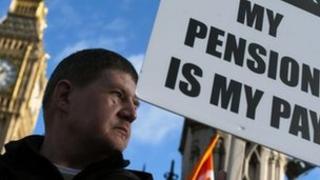 The government has set a new deadline of 15:00 GMT on Monday for a response from unions to its latest offer over public sector pensions, a union says.
On Friday, the PCS said the government was trying to "bully" it into signing up to changes to pensions by setting a deadline of 10:00 GMT on Monday.
This has now been put back five hours, the PCS said, adding: "We certainly aren't anywhere near... an agreement."
The Cabinet Office was not available for comment on Sunday.
The government and public sector unions have been in talks to try to reach agreement on four pension schemes. They cover local government workers, NHS staff, civil servants and teachers.
Up to two million workers went on strike last month to protest at proposed pension changes. More strikes are planned for the new year.
It is thought the government wants to outline where it has got to on the wider pension talks by Tuesday, when MPs break up for Christmas.
A fresh row was sparked on Friday when the government confirmed it was pressing ahead with raising pension contributions next year for teachers and civil servants, even though there is no agreement with unions.
The Education Department and the Cabinet Office said the changes from next year would go ahead, although further talks would be held about future arrangements.
Ministers were accused of being "unnecessarily provocative" and of imposing the increase for some workers.