Sweden cuts its main interest rate on eurozone fears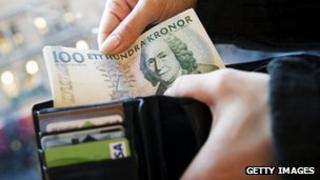 Sweden has cut interest rates for the first time since July 2009, blaming the eurozone debt crisis.
The main interest rate was cut by 25 basis points to 1.75%.
"The weak development of the economy in the euro area is having a dampening effect on the Swedish economy," the country's central bank, the Riksbank said in a statement.
It also said Swedish exporters had seen a drop in orders and forecast that exports would fall sharply next year.
The eurozone is a key market for Sweden, accounting for more than half of its exports.
"Expectations were for a more substantial cut to the outlook. We see another couple of cuts in the first half of next year taking us down to 1.25%," said Carl Hammer, chief currency strategist at SEB.
The move surprised many experts, because the Riksbank's rate setters had noted in the minutes of their October meeting that they expected no rate change until 2012.
The bank has held rates since July 2011 after previously pursuing a policy of gradual rate rises.
"One should not pay much attention to the fact that they say that they are now done with cutting. They are reluctant cutters and they will keep lowering the repo rate next year, it's just a question of time," said Par Magnusson, an analyst at Royal Bank of Scotland.