Little festive cheer on High Street, says CBI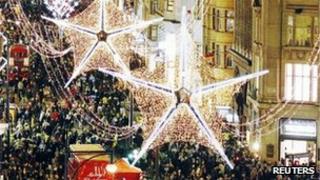 Retail sales volumes grew in December for the first time since May, the CBI has said, but were still considered weak for this time of year.
The CBI's monthly Distributive Trades Survey found 41% of retailers had seen sales rise in the first two weeks of December, while 32% saw sales fall.
The positive balance of 9% was better than had been expected.
However, the CBI warned that the uplift was not expected to last, with sales expected to fall again in January.
'Worrying' outlook
Judith McKenna, chair of the CBI Distributive Trades Panel, said: "Early discounting helped retailers add a little extra sparkle to their sales in December, although the reprieve appears to only be temporary as they don't expect sales to continue to grow into January."
"Consumers are continuing to hold off on purchasing big ticket items, including durable household goods, preferring to use their hard-earned cash to stock up for Christmas dinner and all important gifts for the family," she added.
Howard Archer, economist at IHS Global Insight, said the CBI's survey was "far from buoyant" with the underlying picture remaining "worrying".
"It is evident that sales have been lifted by heightened discounting and promotions, which will have eaten significantly into many retailers' margins," he said.
And he added: "Consumer confidence remains mired near record low levels, with purchasing power under severe pressure from high inflation, muted wage growth and tight fiscal policy."