US new home building rises sharply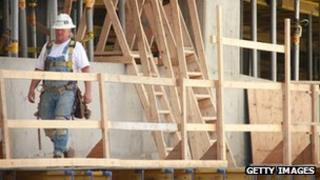 New home building in America rose sharply in November, official figures suggest.
The home starts survey, which records when work begins on new flats or houses, showed a rise of 9.3% to 685,000 compared with the revised October estimate.
Starts rose 24% compared with the same period last year, to an 18 month high.
The number of building permits also rose 5.7% to 681,000, the most issued since March 2010.
Analysts were cautiously positive about the news.
"US housing starts rose strongly in November, building on the gains seen since the start of the year," said Paul Diggle at Capital Economics.
"By historical standards, homebuilding activity is still very depressed, but at least it appears to be on an established upward trend."
But there were also suggestions that it was too early to read a recovery into the figures.
"[The survey] is a helpful datapoint for building materials although activity tends to tail off at this time of year, so we need to see a good spring before being sure that the housing market is turning," said Charlie Campbell at Liberum Capital