Cheap 'knock-offs' threaten Canada's Icewine and cider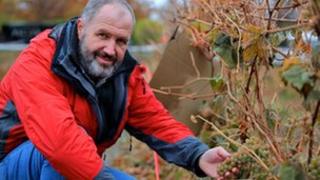 As the first snow is falling, Quebec icewine maker Charles-Henri de Coussergues from the Vignoble de l'Orpailleur vineyard lifts up one bunch, inspecting the glossy grapes.
In late autumn he and a handful of employees hurry to make the last run of the 21 hectares of his vineyards, just south of Montreal, carefully transferring the grapes into specially prepared nets along the vines.
There, the grapes will freeze in temperatures that often plummet to -20C and lower, to be ready for the sub-zero harvest early next year.
Sugars and other dissolved solids won't freeze, but the water will - and once the grapes are put under presses, concentrated grape nectar will come out of the frozen must, until eventually it becomes a very sweet dessert wine.
The cost of the final product reflects the difficult and time-consuming manufacturing process. A typical small bottle (375ml) of Canadian icewine costs around 60 Canadian dollar (£38) or more.
For the past few decades, icewine makers here have been doing well. Many of them originally emigrated from Germany, the birthplace of the tipple.
Not only is the product extremely popular inside Canada; big orders come from top restaurants and luxury hotels around the world.
According to the Canadian Vintners Association, between 2004 and 2010 the export market nearly doubled to 12m Canadian dollar; in terms of volume it grew 43%.
The top five markets for icewine are China, the United States, South Korea, Hong Kong and Singapore. The Chinese market alone soared from $343,000 in 2004 to $4.7m in 2010.
Cheap knock-offs
But Canadian vintners are worried.
While Mr de Coussergues and his 50 or so fellow Canadian ice winemakers await January to get the fruit from the cold fields and under the presses, he knows all too well that similar wines are produced all year round in places where winters are much milder - simply by artificially freezing the grapes.
In Canada, they call these wines cheap knock-offs.
"Icewine is a specialty of cold countries such as Germany, Austria, Canada, and it is very famous because of its quality, which is reflected in its price," says Mr de Coussergues, currently president of the Quebec Vintners Association. "The danger now is that other wine regions start using the name 'icewine' for a product made the artificial way."
Thirty years ago, Mr de Coussergues left his hometown Avignon in Southern France, and - at age 22 - emigrated to Quebec. He became the first icewine maker here, following in the footsteps of many German settlers who opened wineries in neighbouring Ontario.
Back then, there weren't many rules on how icewine should be made. But as the drink gained popularity around the world, more and more vineyards around the world began to sell "artificial" icewine.
A number of US vineyards, for instance, are producing what they call "vin de glacier" - even in hot California.
At least in that case, the labelling is not that misleading, says Mr de Coussergues. He is more exercised that Spanish officials recently granted approval for an "icewine" made with artificially frozen grapes.
Freezing cold
In Canada, all icewines must be made - at least in part - from grapes that have been frozen naturally out in the field and pressed in one continuous process.
Vintners have to be patient. Grapes must freeze, survive the birds and other animals keen on a frozen snack, avoid raisination and mould.
Once deemed ready, grapes are harvested by hand in the coldest hours of the morning or the night, at temperatures of -8C or below, and pressed in unheated rooms.
"In November and December, grapes freeze and defrost several times, and this allows them to slowly get very high in sugar and develop a very particular flavour," says Mr de Coussergues. "But if we freeze them artificially, we'll just freeze water without letting the fruit develop much flavour at all."
Artificially frozen "icewines", he worries, will confuse consumers, who may well opt for a cheaper product.
Dan Paszkowski, the president of the Canadian Vintners Association, speaks of a lack of both consumer knowledge and regulation. Taken together with the wine's high value, it creates "the perfect conditions" for what he calls "icewine counterfeiters".
He speaks of rumours that more than 50% of icewine sold in China is produced using artificial freezing, which creates "a significant barrier to genuine icewine sales potential".
Canadian trade officials are now lobbying the European Union to ensure wine produced produced with artificially freezing grapes can not be labelled icewine.
It finds little favour with winemakers who don't want to wait for the winter frost. They argue their icewines are just as good as those made with grapes frozen in the fields, and have the right to bear the same name.
Ice cider
The success of icewine has also inspired the makers of Canadian cider.
Ice cider is a fairly young product. It is sweet and potent, tasting nothing like normal cider, and is rapidly gaining fans. Similar to ice wine it is made from frozen fruit, in this case apples.
Across Canada there are currently about 50 producers of ice cider. One of them is the estate Antolino Brongo, which opened in 2007 in St-Joseph-du-Lac in the Laurentides, not far from Montreal.
There, brothers Patricio and Daniel Brongo, and co-founder Francisco Antolino, make Cryomalus.
James Suckling, one of the world's top wine critics, praised the drink in 2009, awarding it 94 out of a 100 points. Cryomalus is made by cryo-extraction, the so-called passerillage method: apples are picked, stored in wooden containers, and left to freeze naturally outdoors.
Just as with ice wines, the fruit is allowed to "over ripen" in constantly changing temperatures, to concentrate flavours and natural sugars. In February, the apples are then crushed and pressed at sub-zero temperatures.
Other producers in Quebec do it the other way round. They press the apples in the autumn, and then leave the juice outside to freeze in the cold.
Mother Nature's whims
Patricio Brongo is not a fan of this method, but it's far from being his number one concern. Just like the icewine makers, he worries most about what he calls "unnatural" techniques - such as artificial freezing.
"We really think that we have a very high-value product with ice cider, and letting people use freezers, apple juice and even added sugars discredits the nature of the product," says Mr Brongo, proudly showing off a 375ml bottle of Cryomalus, which sells in stores for about just under 30 Canadian dollar.
"A lot of the final taste comes from [the environment] - the temperature, the sun, the soil. If you take away all those elements, you have a very industrial product that is worth nothing," argues Mr Brongo.
Just as with "artificial" icewines, those freezing the apples themselves vigorously defend their own product.
"We use freezers so our juice does not freeze and thaw naturally at the whims of Mother Nature," says Margot Holtzman from the family-run Still River Winery in Harvard in the United States.
Ms Holtzman's Apfel Eis apple ice wine won the 2009 International Eastern Wine Competition, among other awards.
"We freeze solid, thaw, and discard the clear ice, repeating this for a total of three freeze/thaw cycles. Our Apfel Eis has a tartness - along with sweetness - that is more pronounced than those apple ice wines I have tasted which are frozen outside."
But Ms Holtzman's family does not label its product as ice cider - and this little nuance is really what the dispute is all about.
As Charles-Henri de Coussergues from Vignoble de l'Orpailleur sums it up: "I'm not saying [artificially frozen] product is bad - but it shouldn't bear the same name."