Christmas dinner more expensive, says ONS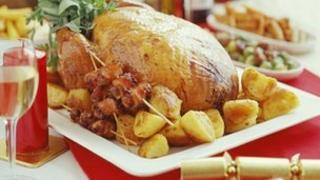 Christmas dinner may cause your waist to expand, but now official statistics suggest it is also causing your wallet to get lighter.
The cost of a typical festive feast this year has risen by 7.5% compared with 12 months ago, according to the Office for National Statistics (ONS).
Red wine and cake are among the items that have been pushing up the cost.
Only potatoes, carrots and double cream - of the 22 items checked - have fallen in price, the ONS said.
Wine costs up
The figures are drawn from the prices of the basket of goods used to calculate inflation each month.
The data shows that the cost of turkey steaks - which is found in the basket, unlike a whole turkey - had risen by 3.8% in a year to £8.15 per kilogramme in November.
Although the price of carrots was down by 20.5%, and the cost of potatoes had dropped by 10.4%, the ONS said, the costs have risen for broccoli (up 4.4%), cauliflower (up 6.3%) and frozen peas (up 4.6%).
The ingredients for pigs in blankets had both gone up, the ONS said. The average cost of back bacon rose from £8.58 to £9.11 per kg, while the cost of pork sausages increased from £4.10 to £4.33 per kg.
The position for those who enjoy a tipple with their meal is also one of stretched finances.
Old world red wine has gone up by 14.2% to £5.63 a bottle, while the price of new world white wine has risen by 8.1%, to £6.56. Champagne has risen by 8.6% to £28.93.
For those sticking to coffee after the meal, the cost of ground filter coffee has risen by 20.9%.
The biggest increase in price is for cream crackers to go with cheese. A packet is 50.9% more costly than a year earlier, at 83p.
However, cost is less of an issue for a handful of Sainsbury's customers than getting their Christmas dinner ingredients at all.
They found their delivery slot following an online order was cancelled when they reviewed their account. Most were re-booked but, in some cases, no alternative time was found and they were given a "gesture of goodwill".
"We apologise unreservedly to customers who have been inconvenienced in any way," said a Sainsbury's spokesman.