US consumer spending figures disappoint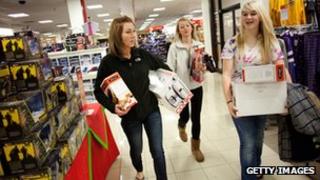 Consumer spending in the US rose by less than expected in November, according to official figures.
Spending rose by 0.1% from October, according to the data from the US Commerce Department.
Incomes also rose by just 0.1%, the smallest rise in personal incomes since August and also worse than predicted.
The disappointing data comes after some positive news for the US economy. Orders for durable goods, from cars to planes, were up 3.8% in October.
However the spending figures are closely watched by economists as it makes up about 70% of US economic activity.
"It's suggesting some softness in the consumer sector," said Scott Brown from Raymond James financial advisers.
"We are not in a recession, but growth is not especially strong either. We did get the extension on the payroll tax cut, which is going to help the consumer outlook."
Joblessness has affected consumer income this year, but the US unemployment rate dropped to 8.6% in November, its lowest rate in two-and-a-half years, according to Labor Department figures released earlier this month.
The Labor Department released figures on Thursday that showed a fall in weekly unemployment benefit claims.
Initial claims for state benefits dropped by 4,000 to a seasonally adjusted 364,000 - the lowest level since April 2008.