Vietnam's economic growth slows amid rising inflation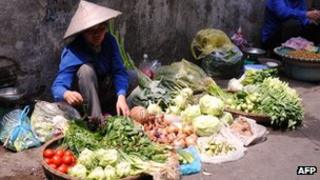 Vietnam's economic growth has slowed in 2011 after the government took steps to rein in inflation and domestic demand.
The statistics office said it expected the economy to have grown by 5.9% this year, down from 6.8% in 2010.
Vietnam has raised the cost of borrowing and introduced measures to cut credit growth in a bid to control prices.
However, despite those measures the rate of inflation doubled to 18.6% in 2011 from 9.2% a year ago.
Vuong Dinh Hue, Vietnam's finance minister, said at a press conference in Hanoi on Saturday that policymakers will co-ordinate financial, monetary and other policies next year in a bid to curb inflation and ensure economic stability.
"I believe that when the macro economy improves and measures for the stock markets are applied, the market will overcome the difficulties and continue to revive and develop in 2012," he was quoted as saying by the Vietnam News.